If you're unfamiliar with Twitter, it's a service that allows you to publicly notify your friends and contacts of your daily activities and thoughts in quick, 140-character-or-less updates from your phone, computer, or the Web. Which is ridiculous in theory, but addictive in practice.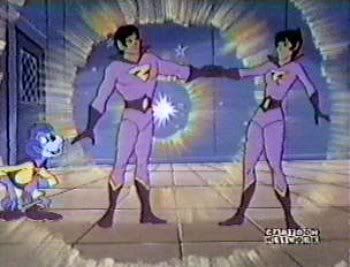 just discovered solution to melting polar icecaps. form of… a GLACIER!
waiting at the dry cleaners for batman's laundry
unfortunate side effect of power to transform into any animal: scientists asking me to procreate w/ endangered species
waxing wonder woman's invisible plane. this superhero-in-training job sucks. guess it could be worse. could be waxing wonder woman.
really bored. considering taking form of rabid grizzly bear and terrorizing a chuck e. cheese's.
@TheFlash yes, my monkey has been good today, so no, i don't need to spank it.
listening to: "secret lovers" by atlantic starr
@greenlantern pls stop surfing porn on Hall of Justice computer. had to clean another virus today
cleaning aquaman's bathroom. how can a fishman have this much hair?
@gleek we promise that we had no idea that your name was another word for spittle
If you enjoyed this post, consider subscribing to Great White Snark by email or by RSS. It's free!