There's a lot to be said for commitment.
First, Chris said to herself, "Yeah, I sure would like an Alien tattoo." Then she spent three years finding just the right design.
And when she finally pulled the trigger, she didn't settle for a measly ankle or bicep tattoo. No. She plastered that bad boy right across her back.

"I guess I really love the Alien character." Yeah, I guess.
As she put it:
It took 4 1/2 hrs, one session and it was painful.
Which could also describe the Oscars broadcast. Or sitting through the Star Wars prequels. Or my last blind date, for that matter. (At least you can't catch face herpes from watching The Phantom Menace.)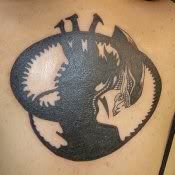 In case you're wondering, that completely wicked design was inspired by the cover of the Dark Horse Aliens comic "Salvation."
Good call not including the creepy dude with the bloody tie.
Enjoy this post? Subscribe to Great White Snark by email or by RSS.