It's Wednesday, which means two things: 1) another hour of your life will expire tragically as you watch the filler-laden American Idol results show, and 2) it's time for a new Geeky Curiosity of the Week!
This week, a Star Wars groom's cake featuring the Hoth battle scene and a felled AT-AT comes to us courtesy of Charles from Tampa "They don't call it Trampa because of all the classy broads," Florida.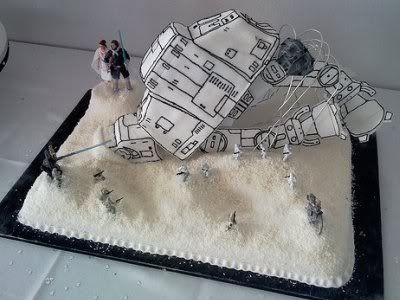 Charlie designed the cake himself and recruited his friend Ingrid to help create it. It featured white cake with coconut shavings as the "snow." They built the body of the AT-AT out of cake and fondant, and used foamcore for the legs.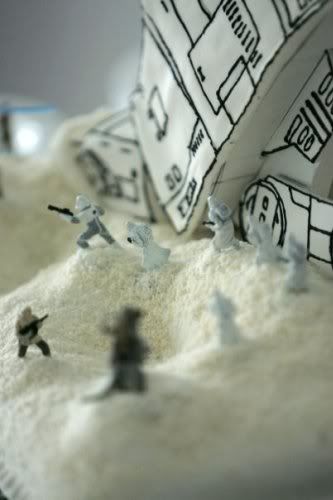 Charlie and Ingrid completed the scene with Star Wars Minatures figures, and with regular 3.5″ action figures for the cake topper.
One of the main arguments that I've gotten from fellow geeks is that Han Solo shouldn't have a lightsaber, but of course he uses one on Hoth to cut open the Tauntaun.
Perfectly valid point, Charlie. Although, I don't recall Princess Leia sporting a rack like that on Hoth…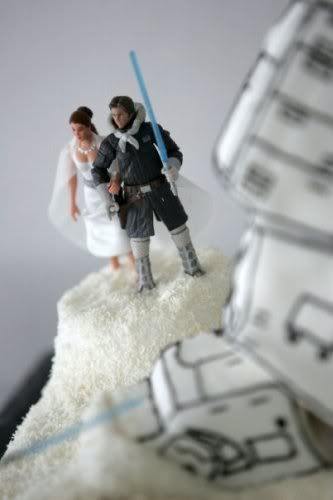 The rest of Charlie's wedding (including the main wedding cake) remained pretty traditional, but he did manifest his inner Star Wars geek one more time during the proceedings:
I busted out the Lightsaber towards the end of the wedding and walked out with it, but that was the only other SW element at the wedding, I didn't want to go overboard.
No, "overboard" is having Jabba the Hutt as your actual wedding cake. (And thank Yahweh for "overboard.")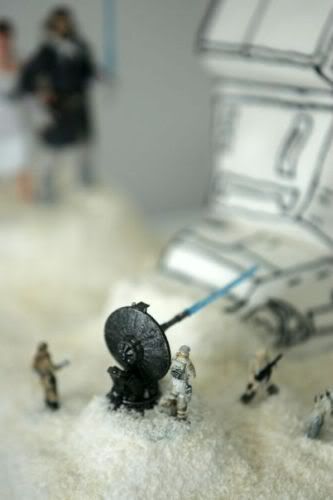 Thanks, Charlie, for sharing the photos and the details! May the Force be with your holy matrimony and stuff.
Enjoy this post? Subscribe to Great White Snark by – or by RSS.