A lackluster TV show preceded by a misleadingly-impressive opening credits sequence reminds me a lot of Paris Hilton. An exciting veneer can beguile you into spending an hour with something that turns out to offer nothing but vapidity, boredom, and a motley collection of poorly-treated STDs.
No, seriously. Smallville once gave me gonorrhea of the eyes. And no bottle of Visine can wash out the clap, people.
RSS and e-mail subscribers, visit the post to see the videos. It'll enhance your viewing pleasure by at least 37%, I promise.
5) Alias
There's nothing I don't like about the promise of an hour-long trip to a chic, European techno-rave featuring geisha girls, a little bit of S&M, lots of leather-clad babes, and some gunplay.
Too bad that by the time Alias jumped the shark, it offered too little of the above and too much of modern spy agencies inexplicably giving way too much of a damn about 500-year-old prophecies.
4) Witchblade
Hey, look! Pretty ladies! Sex! Violence! Magic! A token Asian dude doing martial arts! What's not to like?
Oh, one little thing. The comic book upon which the TV show was based featured a heroine whose magical powers included the ability to make "scantily clad" a PG-13-rated art form.
As you can imagine, fanboys didn't tune in to see actress Yancy Butler put clothes on. Regrettably, she did that… and more. Instead of a string bikini from hell, producers outfitted her in a full suit of medieval armor.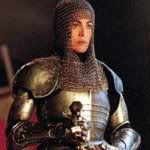 Yeah. A suit of armor. The only thing to outrank mumus in terms of unmitigated unsexiness.
3) Ghost Whisperer
If the artistic directors of the fantastic shows Pushing Daisies and Carnivale got together and had a love child, it might look a lot like the opening credits of Ghost Whisperer.
Unfortunately, the rest of the show comes off like the cloying, dim-witted bastard child of As the World Turns and A Very Special Episode of According to Jim.
2) Charmed
Behold the power of a well-chosen theme song. It's not until you turn off the sound do you realize that the opening credits do, in fact, preview the alternately wooden and ham-handed acting performances that lay ahead.
On the other hand, the credits fail to employ Alyssa Milano's devastating cleavage as yet another tantalizing distraction, so I guess they're not perfect. The credits, that is. The cleavage is just dandy.
1) Smallville
It's tough to say when, exactly, Smallville jumped the shark. Could be when Clark's dad died. Could be the moment when Lana Lang had her first speaking line. Everyone's got their opinions.
Either way, I think it's fair to assume that the stigma of Smallville's downward spiral directly precipitated the breakup of Remy Zero, the band behind one of the best-ever theme songs to accompany a television show's opening credits.
That, or the Remy Zero guys couldn't play their instruments any more, thanks to all the eye gonorrhea.
If you enjoyed this post, consider subscribing to Great White Snark by email or by RSS. It's free!