It's Wednesday, and that means another Geeky Curiosity of the Week! Hold onto your pants, people, it's a good one. But don't clutch your pants… it's just not that kind of blog. Perv.
This week's post pays tribute to not only a fantastic cake, but also to an incredible lady named Jenn, who commissioned the cake as part of a surprise 30th birthday celebration for her then-boyfriend, now-fiancé, Tony.
You might also know Tony by his stage name of "Tony, The Overly-Fortunate Bastard."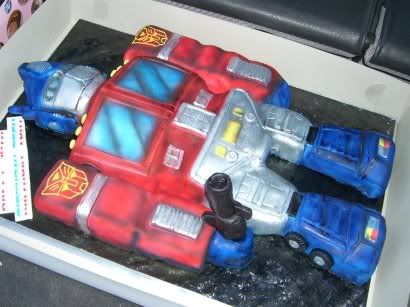 Jenn recruited Debbie Goard, the popular Bay Area cake artisan who also crafted the Millennium Falcon cake, to create this vanilla with chocolate buttercream Optimus Prime cake. The sculpted cake was fully edible, except for the gum paste gun.
Jenn earns some respectable geek cred with this tidbit:
The cake was modeled after the Robot Heroes version of Optimus Prime, the one that was released in the first wave of these toys.
The lady knows her Transformers toys! Care to impress me further?
Since Optimus Prime was Tony's (and I'm sure most guys') favorite Transformer, I wanted to make sure that he looked as close to the 1980's version as possible (plus, I'm not a huge fan of the 2007 movie version!).
Sweeter words were never spoken, Jenn. 80s version, all the way.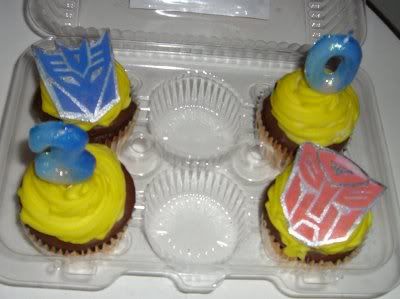 Jenn also had Debbie create four peanut butter flavored cupcakes with chocolate icing. Debbie created perfect replicas of the Autobot and Decepticon symbols based on pictures that Jenn provided.
So, what of this surprise birthday shindig, Jenn?
I found out about Tony's love for Transformers when we came across the 20th anniversary DVD version of the 1986 Transformers movie at Target. Tony never had Transformers toys or birthday parties as a child because his parents wouldn't buy him toys or throw him parties. So, this sparked the vision for me to not only throw Tony a surprise party for his big 30th birthday, but to throw him a kid-like Transformers-themed party!
And does Jenn know how to throw a party. She reserved the swanky, ultra-hip Supperclub here in San Francisco for an entire night and transformed it into a Transformers-lovers mecca.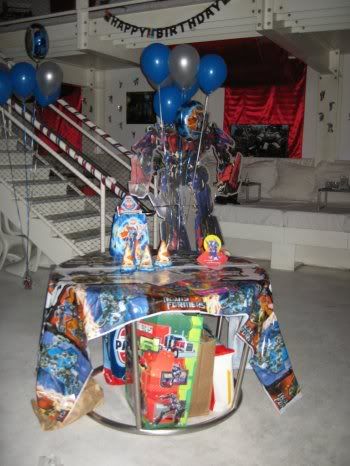 Jenn "decked out the place with Transformers party decor… all bought on Ebay over a 1-year period." Yeah. That's, like, 363 more days than I've ever spent planning a party.

Transformers tablecloths, party hats, napkins, cups, Hershey's mint chocolates with Transformers party wrappers, and other party favors covered all of the tables.

Table reserved for Autobots.

Big cutouts of Optimus Prime and Megatron decorated the floor, along with Transformers balloons, posters, and an inflatable Optimus Prime punching bag.

170 Transformers printed, cut out, glued onto transparencies, then taped onto the walls. Along with many Transformers posters.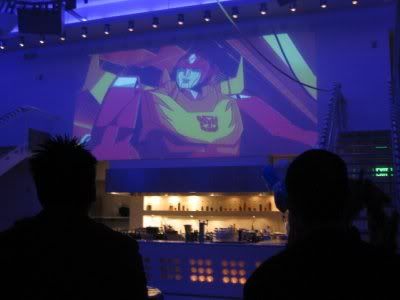 "And since the venue had beds for guests to lounge on, I thought it was the perfect to set up a movie showing of the 1986 Transformers movie (since it totally rocks far more than the 2007 movie!), complete with popcorn."

The way Optimus should be seen. On a giant screen in a posh nightclub.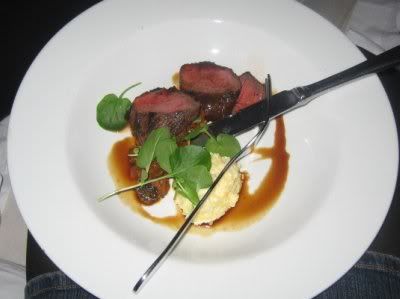 Oh, did I mention the Kobe beef? Yeah. Best. 30th. Birthday. EV-AR.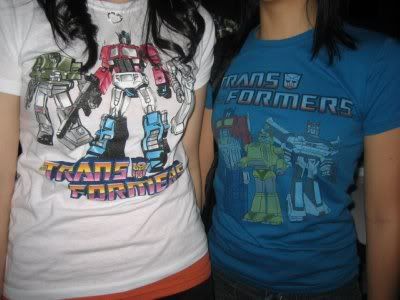 Many of the party guests wore appropriately-themed attire.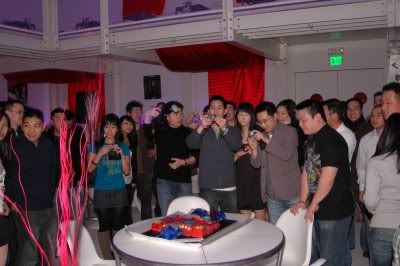 The Overly-Fortunate Bastard sees his cake for the first time.

The gifts: XBox 360, Halo, Guitar Hero, G1 Dinobots, G1 Devastator, Nike Transformers, Energon Destructicons, Transformers Monopoly, Movie Deluxe Bumblebee 2007 & Cliffhanger
Wow. Call me petty, but… I hate you so much right now, Tony. You gleeful bastard.
Jenn, I hereby nominate you for the Lifetime Awesomest Girl Named Jenn Award. After seeing what you did for Tony, I don't feel one bit sorry for his upbringing in what was clearly a Communist ("no toys, no parties") household. Karma has more than repaid him with your aforementioned awesomeness.
Kidding aside… seriously, dude. When can I come over and play with your toys?
Thanks a bunch to Jenn for sharing the photos and the glorious story. And for setting a ridiculously high bar for all other geek girlfriends. (Let's see what you got, ladies!) You can check out the rest of the photos from the party in Jenn's Flickr photoset.
Enjoy this post? Subscribe to Great White Snark by – or by RSS.