As far as I'm concerned, there are only two appropriate ways to pay tribute to the Battlestar Galactica phenomenon.
1) Throw a frakkin' toaster out of the nearest airlock.
2) Throw a party for a bunch of fanboys (and gals), complete with BSG gaming on Xbox Live, high-def episodes of BSG on a big screen, and a sweet-ass Battlestar Galactica cake from uber-artisan Zoë "It takes three minutes for people to type my name because I use an umlaut" Lukas.
Eric Smith of Geekadelphia opted for the latter option this past weekend when he threw a party for his readers in Independents Hall in downtown Philly1. As he told me, "the real highlight [was] definitely Zoë 's work. She's awesome!"
I think it's fair to say Eric has a pretty decent grasp on awesomeness, based on how Zoë described her cake to me:
The cake took about 10-12 hours to make, and all if the images on it are "drawn" in chocolate that I colored and hand piped. The cake was chocolate devil's food filled with raspberry jam and bittersweet ganache, iced with chocolate buttercream and more ganache, decorated with chocolate ships and explosions, silver dragees, silver and gold space dust.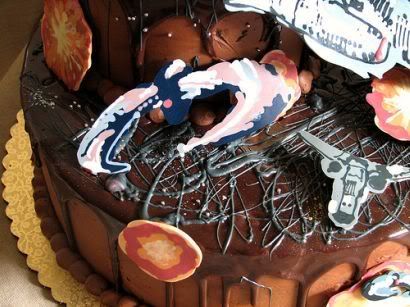 That's right, everything on the cake–including the Battlestar, the Cylon Raiders, Raptor, and explosions–was 100% edible! That should please the finicky Cake Cops and Pastry Police amongst you, eh?
Thanks to Pete of /Film for the great find, and thanks to Zoë of Whipped Bakeshop and Eric of Geekadelphia for the deets and pics!

1 That's "Philadelphia," for the small-yet-hearty contingent of Nepalese goat herders who follow the blog.
Enjoy this post? Subscribe to Great White Snark by – or by RSS.