I've got a problem: I love Rock Band
, but I don't own a gaming console. Which means that–much like a nine-year-old–I make friends with whomever has the best toys. (By the way, do you have an Xbox? I'll totally be your best friend.)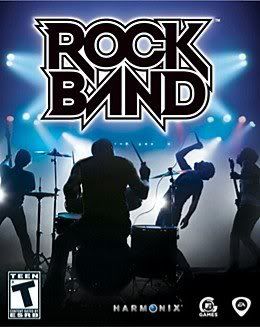 Like any Rock Band enthusiast, I've got my wish list of tracks I'd like to be able to "play." For this particular list, I selected songs that meet the following criteria:
1) The guitar riffs, the drum beat, and the vocals must completely ROCK.
2) Each song has made its way into our collective consciousness via a landmark geek movie or TV show.
E-mail and RSS subscribers, visit the post to see the videos and such.
5) "You've Got the Touch" – Stan Bush (Transformers: The Movie)
Bonus points if you shed a little tear during your performance, recollecting the honorable death of Optimus Prime.
Point deductions if your rendition sounds anything like Marky Mark's version from Boogie Nights.
4) "Tick Tick Boom" – The Hives (Jericho)
The marketing gerbils at CBS couldn't have picked a better song to attach to promos for season two.
Fans haven't been so duped into enthusiasm for what turned out to be completely mediocre entertainment since Blur's "Song 2" appeared in the trailers for Starship Troopers.
Which reminds me…
3) "Song 2" – Blur (Starship Troopers)
Also known as the inspiration for a future GWS post entitled, "Geek Movies that Miserably Fail to Live Up to the Awesome Songs in their Trailers."
Subtitle: "No, Seriously… These Movies Sucked."
2) "Save Me" – Remy Zero (Smallville)
Arguments will break out between Rock Band players over who gets to sing the awesome vocals on this one.
These arguments will resemble fights between the members of an actual rock band: lots of whining and beer bottles getting knocked off the coffee table, accompanied by exasperated girlfriends.
1) "Highlander Theme" – Queen (Highlander)
I'm sure I'm not the first one to say that Rock Band needs some tracks from Queen.
I'm just the handsomest and mostest smartest one.
Honorable Mention: "Buffy The Vampire Slayer Theme" – Nerf Herder (Buffy)
So, this track doesn't really count because it doesn't have any vocals, but damn does it make me want to wail on a flimsy, plastic guitar.
There we have it. What well-known, rockin' songs from geek movies or TV shows would you like to play on Rock Band?
If you enjoyed this post, consider subscribing to Great White Snark by email or by RSS. It's free.