Strip away the Hollywood glitterati, sneak previews, fantastic costumes, and excitement from a comic book convention like Comic-Con, and you're left with the bored-looking C-list celebrities, sweaty nerds, and $7 hot dogs of a second-tier event like Super-Con.
But the smaller conventions certainly aren't without their gems.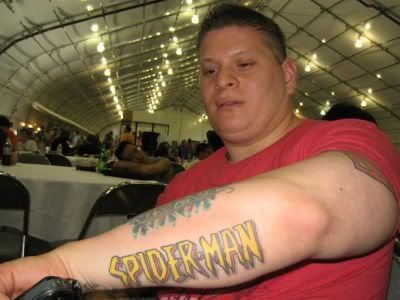 I met Ron a couple of weekends ago at Super-Con. When I mentioned that I publish a blog that profiles geeky tattoos, he was more than happy to take me on a tour of his comic-book-inspired body art.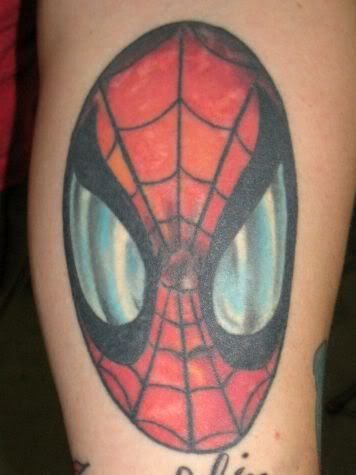 Ron loves Spider-Man tattoos. No…. really. A lot.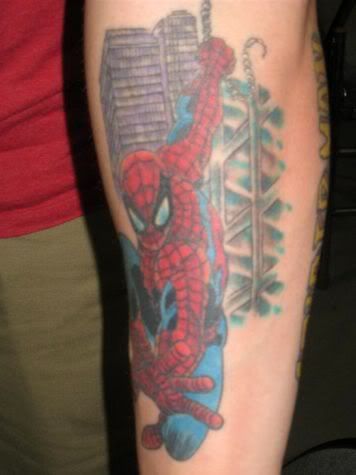 Ron's first-ever tattoo was of Hot Stuff, the diaper-clad Devil from Harvey Comics.
That ink has since been covered up three different times. Just call Ron the Human Etch-a-Sketch of tattoo art.
Pete Alviar of Creative Vision in Monterrey, CA does most of Ron's ink, including the above work-in-progress depiction of Venom.
I've been looking for the right approach for a Kristen Bell tattoo. Maybe Pete can hook me up with one where she's tearing her way out of my flesh. Yeah. Sexy.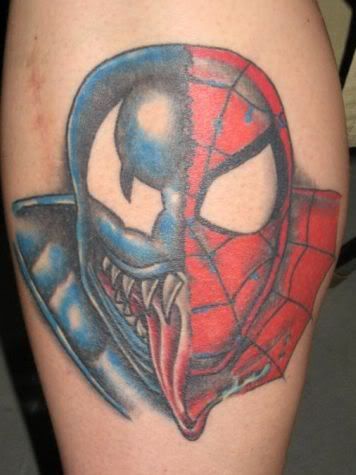 Lest you think Ron carries a torch for Marvel, he's got a smokin' Superman symbol tattoo on his left upper arm.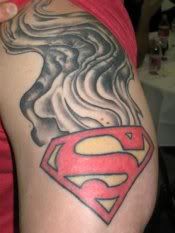 Or maybe it's a Super-spade that someone's been using to smooth out some roof tar. Hard to tell.
Thanks to Ron for sharing the goods!
Enjoy this post? Subscribe to Great White Snark by – or by RSS.