« Geek Steal: Up to 50% Off Blu-ray Discs During Amazon's Blowout Sale | Main | The Top Five Actors to Consider Casting in the Beavis & Butt-Head Movie »
By Great White Snark | June 4, 2008
Amateur cake artisan Velma made this cake in the likeness of Futurama's Bender for her "little booger-flicker son, Tony."
Tony, why must you flick? Couldn't you just wipe, or drop, or even eat? Stop imposing your booger affliction on the rest of us. Thanks in advance from my violent aversion to other peoples' bodily detritus.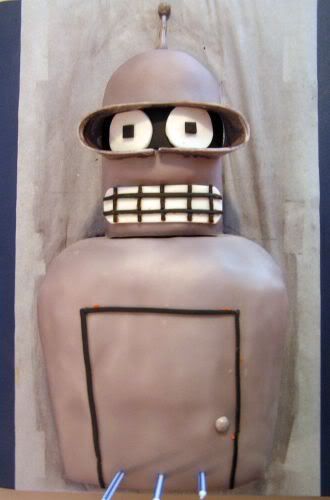 So what flavor of cake are we talking about here?
The cake itself was chocolate, store bought – roughly 4-5 boxes. Instead of using oil, or "oral" as my mother used to say, we used half a brick of cream cheese to make the cake very dense and moist – perfect for carving into shape.
Yeah, you can never be too careful about mixing oral and baking. The last time I made that mistake, I woke up with a sore jaw and a crumpled five dollar bill on my nightstand.
A measly five bucks. Whatever.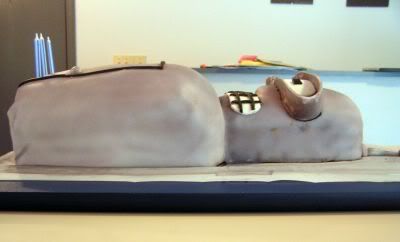 This was the second cake attempt ever using rolled fondant. Mr. Incredible came first – see pic. Having little or no idea how to color the stuff, we used spray-on food coloring. Total Mad Scientist experiment with spray-coloring in our hair, on the cat, just everywhere. I wouldn't recommend drinking quite as much bourbon as we did, either, but when you mix gospel and liquor, crazy things just happen. The Lord moves in mysterious ways!
Tell me about it. I'm starting to get pretty annoyed with The Lord for this inexplicable Smallville-watching habit of mine. I mean, seriously. Enough already, Lord. I clearly wouldn't be watching that tripe if it weren't for your divine will being all mind-controlly and everything.
Thanks to Velma of HyperCraftive for the details on her cake.
Enjoy this post? Subscribe to Great White Snark by email or by RSS.
You may also like these stories:
Topics: Cakes | 2 Comments »
Tags: Cakes
2 Responses to "Bender from Futurama Birthday Cake – Geeky Curiosity of the Week"
Nathan D Says:
June 5th, 2008 at 8:25 am

I wish I knew how to quit you, Smallville.

Thankfully my little tryst with "Jeremiah" could only last 2 seasons, or it might have gone where you are now..

tiff Says:
June 5th, 2008 at 12:04 pm

He looks too beautiful to eat!
Comments