I do so love getting surprises in my e-mail inbox, especially when they come with promises of a "blue sexy pill" that can "update your penis." Amen to that! I'm certainly not going to migrate my wang to a new operating system with some drab, frumpy pill. You know what I'm sayin'!
Today's batch of e-mail brought me another type of treat; one having nothing to do with sexy pills. Ben of B-Side Blog sent me a note bringing my attention to what has got to be one of the most immaculate R2 cakes I've seen to-date. (And I've seen more Star Wars cakes than any one man should.)
From Ben's friend Mark Randazzo of Mark Joseph Cakes, the artisan behind this 100% edible recreation of R2-D1, R2-D2's red robotic twin:
The whole thing is layers of red velvet cake with white chocolate ganache and chocolate hazelnut buttercream filling throughout. And yes, the rice krispy treat arms.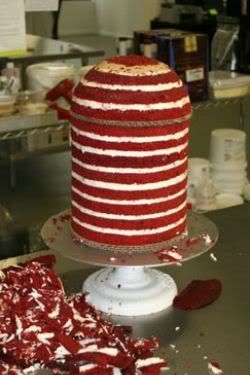 I'm not sure I know any four-year-olds who deserve the precision and attention to detail evidenced by this birthday cake. But I don't think I'd expect anything less from Mark, the co-creator of the six-feet-tall, fireworks-adorned Sock Monkey Cake that won The Food Network's Extreme Cake Challenge (judged by Duff Goldman of Ace of Cakes) last year.
You heard me. A six-feet-tall monkey cake. With fireworks.
For the love of 1977-era Lucas, check out the B-Side Blog for lots more "making of" photos! Thanks, Ben, for sharing the goods.
Also, I don't think I need to tell you in slow, measured, monosyllabic terms that you should absolutely check out Mark Joseph Cakes if and when you need a kick-ass cake in the New York City area.

See a new geeky curiosity every week! Subscribe to Great White Snark by – or by RSS. It's free.