In this 1994 production based on a popular martial arts combat video game, a pair of scrappy brothers-in-arms–one Asian, one white–join a diverse group of do-gooders battling a diabolical madman trying to harness the power of a weapon that will allow him to take over the world.
Double that synopsis and you've got Street Fighter and Double Dragon. Because Super Mario Bros. had gone so well in 1993 that Hollywood was all, "Hey, let's double-down on painfully mindless video game movies next year! And someone fast-track that Pluto Nash script while we're at it."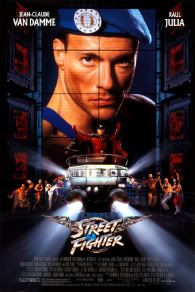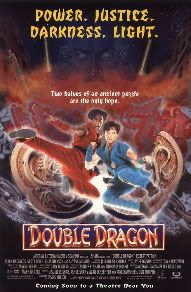 Point: Jean Claude Van Damme is awful, but at least he's believable as an on-screen martial artist.
Meanwhile, much as Jaleel White will always be Urkel from Family Matters in our minds, Scott Wolf–who headlined Double Dragon as Billy Lee–will always be that whiny, doe-eyed douche from Party of Five who got to make out with Jennifer Love Hewitt. His inherent feebleness precludes any credibility as an action star.
Oh, what's that? He also guest-starred on an episode of Blossom? DOUBLE FAIL.
ADVANTAGE: Street Fighter
Point: Seriously, though. Jean Claude Van Damme is really, really awful in Street Fighter.
I'd tell you to watch and judge for yourself, but that'd be like asking you to smell-check some spoiled milk for me.
ADVANTAGE: Double Dragon
Point: Robert Patrick went from Terminator 2… to this?

It hurts me to look at him when he's like this, all done up like a super-evil interior decorator.
ADVANTAGE: Street Fighter
Point: I've got two reasons to sit through Double Dragon: Alyssa Milano.
Get it? No? I'm referring to the two reasons she got hired for Poison Ivy II. And I don't mean her personality and acting skills.
Yes. Boobs. Happy now? I had to spell out the boob joke for you. God.
ADVANTAGE: Double Dragon
Point: Really, Alyssa? That hair?
Apparently the hair and make-up budget on Double Dragon amounted to a bottle of hair bleach.
ADVANTAGE: Street Fighter

Point: Both films feature hideous mutants. But only one of them had the courtesy not to blatantly rip off Pizza the Hutt from Spaceballs.
ADVANTAGE: Street Fighter
Point: Street Fighter featured iconic actor Raul Julia in his last role before his death.
Of course, Street Fighter also subjected Julia to his most humiliating role, right before his death.
ADVANTAGE: Draw
WINNER: Street Fighter
With all of its frosted hair tips and Scott Wolf pussy-fication, Double Dragon never really stood a chance.
Any points that you'd like to throw into the mix, people?
If you enjoyed this post, consider subscribing to Great White Snark by – or by RSS. It's free.