I'm putting some serious thought into converting to Hinduism so that someday I can be reincarnated as a four-year-old boy. Because as a 31-year-old Jewish dude, I'm getting bupkis in the awesome birthday cake department, people. Goose eggs.
The tricky part is specifically getting reincarnated as the four-year-old kid of a mom like Sunshine, who thinks nothing of spending thirteen hours with her own mother creating a Millennium Falcon cake for her son's birthday party.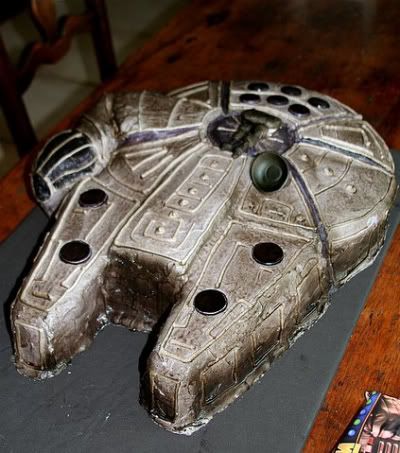 Shed some light on us, Sunshine… what flavors are we talking about?
The circular part of the falcon is white cake, and the front of theFalcon is chocolate cake…that way, we had both! The cake has 2 layers with icing in between, so it would have height.
Indeed, there's height to spare. A slice of that cake would rival the size of even the most unreasonable of a spoiled child's birthday demands.1

Bigger than your average four-year-old. And tastier, too.
Please illuminate us further, Sunshine.
I made icing and colored it with a little black coloring to get a nicegray color, and I iced the entire thing. I made another batch of icing and colored it a lighter gray for the details on the ship. My mom shaded each section of the Falcon with black to add depth. Then we air brushed the entire cake with black to bring it all together, and added the red blasters in the back.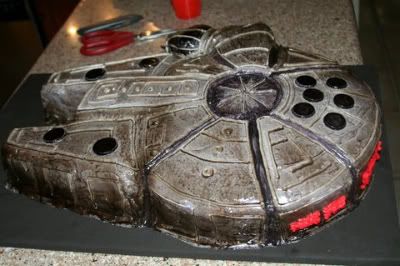 Sure, sure… who doesn't enjoy the taste of delicious airbrushing? But here's the million-dollar question: is it entirely edible? Enlighten us, Sunshine!
The vents on the front and back of the Falcon, as well as the satellite dish and guns, are made from fondant (so everything is edible on the cake).
(Hindu) Hallelujah! Well done, Sunshine, to you and your mom. You're an inspiration to mothers, everywhere. Or you damn well should be. Thanks for letting me know about the cake and sending the details.
1Of course, the "spoiled child" to whom I refer is me. Or maybe you haven't seen the Star Wars cake that I demanded my mom make for me… on my brother's birthday?
If you enjoyed this post, consider subscribing to Great White Snark by – or by RSS. It's free.