I like to think that when Wonder Woman isn't polishing her indestructible bracelets and picking star-spangled wonder-wedgies out of her Amazonian derriere, she enjoys kicking back with her official Justice League-assigned BlackBerry to micro-blog her life on Twitter.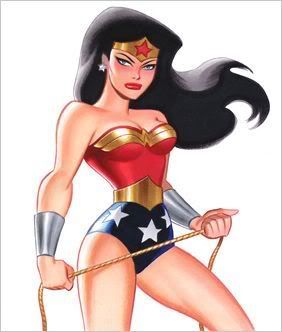 If you're unfamiliar with Twitter, it's a service that allows you to publicly notify your friends and contacts of your daily activities and thoughts in quick, 140-character-or-less updates from your phone or computer. Which is ridiculous in theory, but addictive in practice.
At the Justice League happy hour. Gods! Green Arrow mixes a formidable appletini. I need to lie down.
@TheFlash Just once I'd like to come home to my room in the Watchtower and not find you rooting through my underwear drawer.
Sometimes I feel ridiculous flying the invisible jet. Like a mime doing a really good 'driving the car' impression.
@Zeus Just found out that Clash of the Titans is getting remade(!). Do you know who's playing you?
Feelin good. Doesn't happen all the time, but I am totally rocking my tiara today.
I'd love to get the Lasso of Truth around Batman and find out if he's been stuffing that codpiece.
@BlackCanary Are we still on for Sex and the City on Friday?
Ugh. Indestructible bracelets I can't remove = swamp rot on my arms after a shower. (Too much info?)
Um, hello, @Superman! My eyes are up here! "Big blue boy scout," my ass.
Who keeps leaving the toilet seat up in the Watchtower lav?
Enjoy this post? Subscribe to Great White Snark by – or by RSS.