Finding a Death Star cake is a bit like getting laid at Comic-Con. You might find something to put your mouth on… but it ain't gonna be pretty.
Certainly we've seen our share of bad Death Star cakes. I'm so jaded that I profiled an artsy Death Star wedding cake that didn't even have the decency to be spherical.
So imagine my surprise when Sasha Reichart of cakelava bakery in Oahu, Hawaii, e-mailed me to share the confectionary creation that she and her husband Rick crafted for some Overly-FortunateTM kid's birthday party.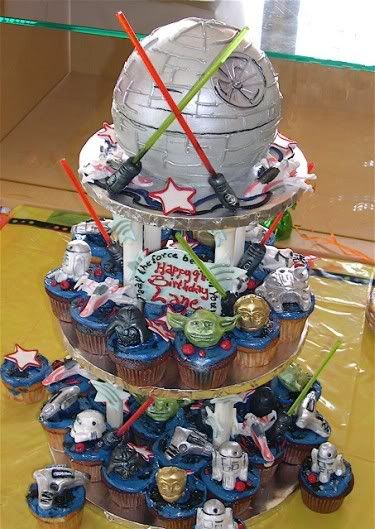 The marvel of this piece is that the near-perfect representation of the Death Star ("Strawberries Chantilly" flavor cake with buttercream frosting) is actually overshadowed by the diversity, detail, and fanboy-goodness of those handmade, fully-edible, sculpted Star Wars cupcake toppers.
These were ordered by our client Jennifer who is a regular client of ours. These cupcakes were made for Lane, her step-son's 9th birthday party. Lane absolutely loves Star Wars and thought it would be fun to have the characters on the cupcakes. Fun is an interesting choice of words. I can think of a few: …. grueling … difficult … time consuming. [For] all the reasons above, Rick won't recreate these cupcakes. This said by the man who made 200 cupcakes with gila monsters, snakes, and cactuses for a wedding (yes, a wedding).
Yeah, Lane, I think it would be "fun" to live in a three bedroom, two-and-a-half bath treehouse with a working elevator, but I don't expect someone to try to make the damn thing for me! Tell mommy that spoiled children spoil our future. Hopefully she'll understand what I mean.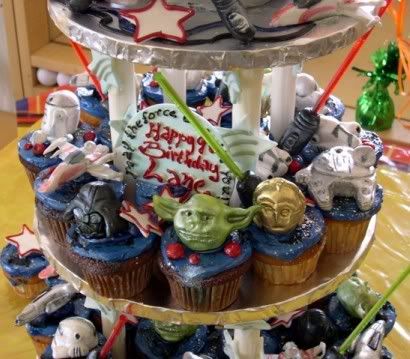 Each of these handcrafted Star Wars cupcakes are edible and we were told that the kids had a blast choosing which Star Wars figure to eat.
Yeah, every kid except the one who got stuck with the cupcake with the five-pointed cookie star on it. I'm sure the kids who got sweet-ass Millennium Falcon and X-Wing and B-Wing cupcakes were pleased as punch.
Every Darth Vader, Yoga, R2-D2 and C3-PO head were made and painted by Rick, as were the lightsabers. Rick doesn't recall exactly how long it took him to make the Star Wars cupcakes, but he did spend about a day making the 40+ cupcakes.

For the cupcakes we did both vanilla an chocolate cake filled with berries and cream and chocolate ganache.
Wait, not only did these kids have a choice of toppers, they had a selection of flavors as well? I think I just caught another whiff of overindulgence corrupting today's youth.
Show your appreciation for Sasha and Rick in the comments, and keep up with their work at the cakelava blog.  Respect!
See a new geeky curiosity every week! Subscribe to Great White Snark by – or by RSS. It's free.