I've seen it for myself several times, now: sometimes comic book conventions can be gayer than the cast of Queer Eye for the Straight Guy driving Mazda Miatas to a wine and cheese party at Clay Aiken's house to listen to Liza Minnelli records. Which–if you've ever sat through three lame punchlines on Will & Grace–you very well know is pretty gay.
By all appearances, many of the largely-male crowd at Comic-Con have rarely ventured into the sunlight, let alone into the undergarments of a moderately-attractive woman. You'd think that a professionally-sexy Hollywood actress would garner some attention. At least some random howls of hormonal anguish. But the closest you'll get to hearing a sound like that at SDCC is standing near the Mattel booth when they announce that the limited-edition Cobra Commander figures have sold out.
No, fanboys would much rather lavish their awkwardly adulating attention upon famous dudes who tell cock jokes or blow shit up.
5) Naomie Harris from Ninja Assassin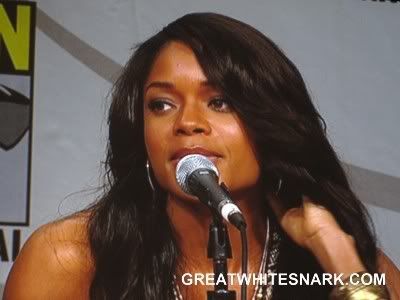 Not even pretending to be interested to be there. Not that anyone noticed.

Ignored in favor of: Korean pop star, Rain
What a waste of attention. This dude couldn't speak enough English to talk his way out of a phone booth. The Q&A session went a lot like this:
Exuberant fan #1: "Hey, Rain, you're awesome. You're totally awesome. Now that you've done an action movie, are you going to move on to something like comedy? I love you. You're awesome."
Rain: "I work very hard on this movie. Very good. Everyone… give your money… see it."
Exuberant fan #2: "Rain, you're so cute. What do you like about American girls?"
Rain: "I work very hard on this movie. Very good. Everyone… give your money… see it."
4) Jaime King from Sin City

"Um, are these nerds going to talk to me, or what?"
Ignored in favor of: Samuel L. Jackson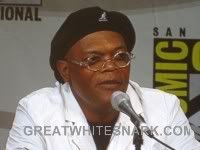 You could actually hear the erections growing when Sam Jackson started talking about his collection of action figures of himself. The crowd laughed and clapped like delighted toddlers when he described fights he'd stage between the Mace Windu and Shaft figures on his desk.
3) Natalie Martinez from Death Race

This is the face of someone whose soul has just died just a little.
Ignored in favor of: Jason Statham
During the Q&A, a fanboy actually led the audience of 5,000+ people in singing an enthusiastic round of "Happy Birthday" to the British action star. Which I'm sure was a bit disconcerting to Statham, since his screaming groupies usually have vaginas.
2) Carla Gugino from Race to Witch Mountain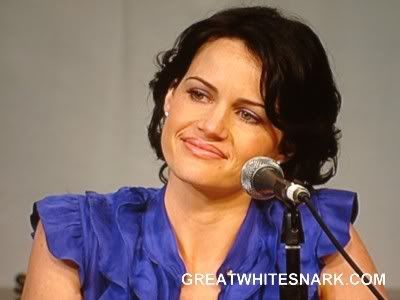 Carla consistently had trouble keeping her 'smile' from looking like a Pursed-Lipped Smirk of Ultimate Disdain.
Ignored in favor of: Dwayne "The Rock" Johnson
Apparently showing your glorious breasts for a solid 30-seconds in Sin City doesn't measure up against starring in the live-action adaptation of Doom.
1) Amber Heard from Pineapple Express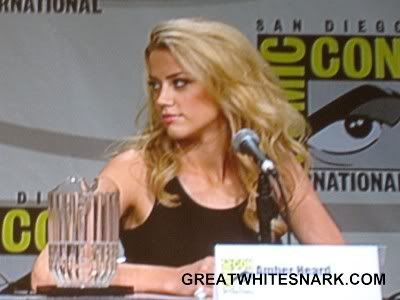 "Can you believe I teased my hair for this?"
Ignored in favor of: Seth Rogen and James Franco
At Comic-Con, pairing up a nerd who Made It Big and a dude who co-starred in Spider-Man is like playing Guitar Hero on the hardest setting with a blindfold on and peanut butter on your fingers. That shit just can't be beat.
Not at all ignored: Traci Lords and Katie Morgan of Zack and Miri Make a Porno
Yeah, put a couple of porn stars on stage, and suddenly you have the crowd's attention. Shocking.
Am I wrong when I guess you've suddenly got a mental picture of a sweaty, pantless comic book nerd sitting in his dark basement in front of the glow of a computer screen?
No? You weren't at all thinking about that until I mentioned it? Yikes. My bad.
If you enjoyed this post, consider subscribing to Great White Snark by email or by RSS. It's free.