As we recently saw, whispers of yet another live-action Teenage Mutant Ninja Turtles movie can still tweak the figurative nipples of the internet. Perhaps fans are hoping for more ill-conceived yet eminently-discussable pop culture gems like Vanilla Ice's ninja rap and the TMNT concert tour.
Me? I just want Corey Feldman (a.k.a., the voice of Donatello) to find work again after Lost Boys: The Tribe
. "Mouth" from The Goonies
deserves better than that. Not much better, but… still.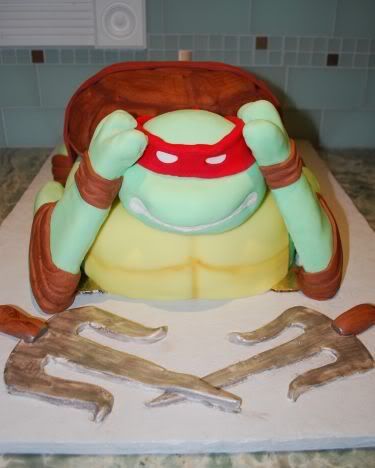 Five-year-old birthday boy Jake made a "special request" for this Raphael TMNT cake from Ally, a cake-making hobbyist from California's Bay Area, demonstrating that the Turtles are still going strong(-ish) with the kids, even after twenty-five years.
Ally provided me with the deets:
The head, arms and legs are made of rice-crispy treats covered in fondant. Not only are they tasty but they are a great way of molding those harder shapes that don't work as well in cake. The shell is a Chocolate/Pecan cake and the body is a Dark Chocolate cake. It was meant to feed 60. Took me 7 hours to assemble and decorate.
Sixty people? Who is this kid? And does he want to friend me on Facebook?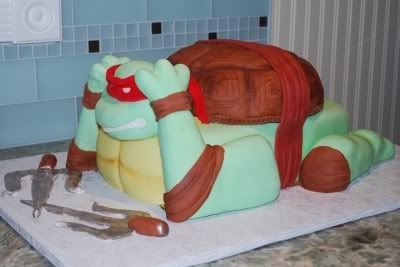 Raphael has obviously assumed the "duck and cover" position, which you don't often see on a turtle. You'd kind of expect him to retract his extremities into his shell when he's in danger. But then we'd just have a green slab of cake with a shell on top that feeds forty-eight, so… kudos for judicious use of artistic license, I guess.
Thanks to Ally for sharing the photos and details. Too bad I couldn't get her to reveal the secret recipe for those delicious double-sais. There's nothing so delectable as a bladed weapon.
* Find new and vintage TMNT toys on Ebay.
If you enjoyed this post, consider subscribing to Great White Snark by – or by RSS. It's free.