The closest I had to a celebrity run-in at Comic-Con last month came when a huge dude sporting gold chains, a leopard print muscle shirt, and a name tag marked "Guest of Corey Feldman" asked me for directions on the Con floor "to the Thundercats. You know, Lion-O. Thundercats."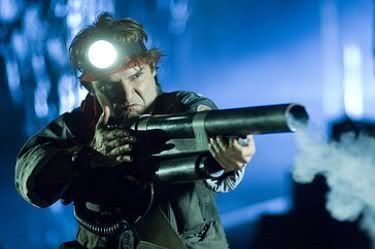 Ok, first, sir, you've met me on the floor of a comic book convention. You can be damn sure I know the Thundercats. No need to clarify by listing the names of some of the principal characters. That's like being in Las Vegas and asking a sweaty, mustachioed guy in a trench coat for directions to the AVN (Adult Video Network) Awards, and then saying, "You know, Jenna Jameson?" Uh, yeah, that guy knows.
Second, Mr. of Corey Feldman–if that is your real last name–what is the entry fee, exactly, for the privilege of counting yourself amongst the posse of a has-been, self-important, deluded C-list actor? Because I've got $36 burning a hole in my pocket and I hear Casper Van Dien might be in the market for a new BFF.
"Wait," you say, "I know Feldman's a has-been, but… deluded? Now you're just being a Meanie Meanerson, GWS."
"Nay!" I respond. Because I occasionally speak like a medieval English dandy. Corey Feldman is the same guy who says:
I like to do something that's a challenge for me as an actor. Being in business as long as I have, you want to make sure that you're constantly challenging yourself and setting obstacles and I think this certainly was one of those…
…regarding the straight-to-video exercise in pillaging pop culture treasures from the 1980s, Lost Boys: The Tribe
. The same dude who refers to his work in Bikini Bandits and The Toxic Avenger IV as his "craft."
At which point, I conclude with, "Guffaw."
Makes you wonder how a character like this operates. What conversations and thoughts does he have? What would he Twitter?
By the by, if you're unfamiliar with Twitter, it's a service that allows you to publicly notify your friends and contacts of your daily activities and thoughts in quick, 140-character-or-less updates from your phone or computer. Which is ridiculous in theory, but addictive in practice.
@JoelSilver Have a chance to watch that Lost Boys 2 DVD I sent over? It's gold, man. Gold.
@GaryColeman coming over to help me work on my craft
Saw G. Clooney downtown today. He told me to stop wearing dark sunglasses indoors b/c it makes me look like a "douche." I WAS IN GOONIES!
Total b.s. My band Truth Movement booed off stage last night. That's the last time we play Waffle House.
If I weren't successful, would my wife's breasts be so big? No. And everybody knows it, because we're on TV. Life is sweet.
@JoelSilver Having tough time reaching you. Called 3 times today. Your assistant: "He's out to lunch." At 9, 2 and 7p? Call me, dude!
Just saw my ex Vanessa Marcil on an ep of Las Vegas on NBC. Looks good. Wonder if she regrets giving all this up. I WAS IN STAND BY ME!
@haim That's the last time I clean your vomit out of the pool. It smells like crack, stomach acid, and hair dye.
@Guido Gather up the posse. We're hitting a sci-fi convention in Tuscon.
@JoelSilver Seriously, though, dude. Lost Boys 3. Let's make it happen. I'm available. Any time.
Save Up to 60% on Hit Geek Movies and TV on DVD!
Enjoy this post? Subscribe to Great White Snark by – or by RSS.