I promise I'll get off this Star Wars cake kick next week, but I'm sure you won't blame me for beating a (delicious, frosting-covered) dead horse once you see this week's selection.
Brace your eye holes, because Diane of the California Bay Area's Bewitching Elegance ("Cakes to Dy for!") has provided me with photos and details on a devastatingly sweet Star Destroyer cake.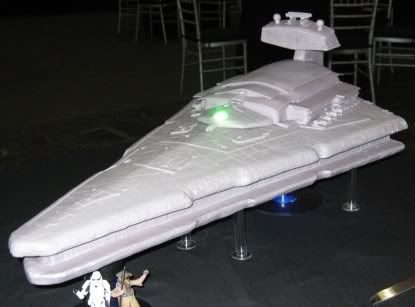 Diane crafted this three-foot-long cake out of fondant over red velvet, for a couple whose enthusiastic commitment to a Star Wars theme wedding matched her gusto in the preparation of this confectionery artwork.
The cake was for two members of the 501st who got married at Kerner Studios. I think they are two of the coolest people I have ever met! The wedding was done in true Star Wars style, complete with Imperial vows and Darth Vader presiding. There was even a gentleman there with an "almost" fully functioning R2-D2. The ladies LOVED dancing with R2-D2!
Of course the ladies love dancing with R2. It's not the moves that count, it's the enthusiasm.
Or so they tell me. A lot.
I used schematics that I had found on the web, pictures from the actual screen used model, and a plastic model kit for the dimensions and details.
I hope she destroyed those schematics when she finished the job. Those squirrelly Rebels will snatch any ol' set of plans left laying around.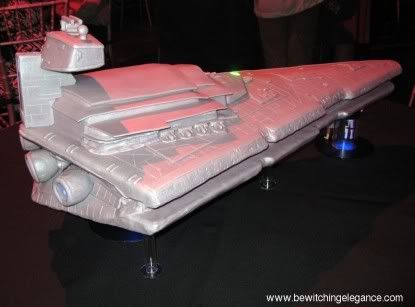 Diane's dialed the awesomeness knob to '10' with her attention to detail… then turned it to '11' with a couple of high-tech extras.
I called in my husband for some help and we found a way to light the back end of it so that the engines would glow which was done as a surprise for the bride and groom. I also made the illuminated stands custom for the cake. The green light on the bridge was added by the guys at Kerner who aimed a laser and two 20K spot lights on it.
Ah, yes. There's nothing so perfect that can't be made better with lasers. Or monkeys. But lasers seem the obvious choice in this case, so… good call.
Finally: exactly how long did it take to create this luxury cruise liner of Imperial space travel?
After the 100 or so hours it took (including design and prototyping) I was done! And no, I did not freak out or even cringe when they cut it.
One-hundred hours? That's practically an entire work week in France. You could probably double their GDP.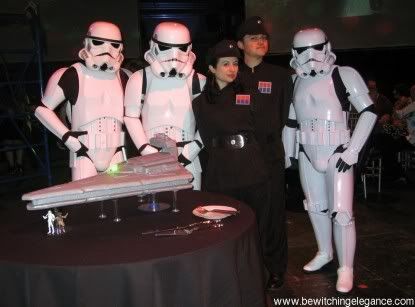 The cake artisan, her husband, the cake, and their pet clones.
As if 100 hours of her work hadn't already put the "service" in "full service," Diane took her duties as the married couple's official cake artisan a step further. She and her husband dressed in costume as Imperial Officers to attend the wedding.
No word on whether she spoke in a British accent and kissed up to Grand Moff Tarkin.
Thank you to Diane for telling me all about this latest in a series of fantastic Star Wars cakes. Check out Bewitching Elegance for more views of the cake, including a pic of the post-sliced cake with red velvety innards exposed.
Enjoy this post? Subscribe to Great White Snark by – or by RSS.