Because my volatile, unmedicated mood swings demanded it! An actual, honest-to-goodheist demonstration of geek cake artistry outside of the Star Wars domain.
Enjoy it while it lasts, people. My fixation on Star Wars cakes makes Zack Morris's crush on Kelly Kapowsky look like the whimsical hobby of a kid with a bad case of A.D.D.
Lest you think that this Spider-Man cake features the signature of a wildly egotistical four-year-old cake artisan named Nathan… no. This vanilla sponge birthday cake with vanilla butter cream in the middle comes to us courtesy of Jen of Jen's Cakery.
The icing is all sugar paste (I buy it ready-coloured). Spidey is made from modeling paste (sugar paste with some tylo powder added to make it firmer).
Curse my metal body for making this about Star Wars, but I want to stick that Spidey topper in my mouth and chomp him in half, all Rancor-style.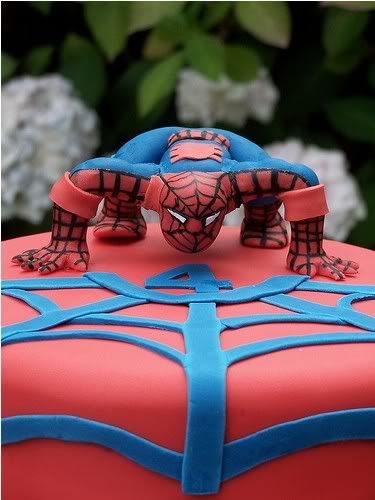 I'm not sure how long it took in total but Spidey was the trickiest bit (maybe 3-4 hours for the figure). When I was asked to make it, my husband produced several very old spiderman annuals from his cupboard (where other men might stash other types of mags, mine has comics!!) which I used to copy the details. I painted his black webbing on with food colouring, which got a bit messy but if you don't look too closely, it works!
That's funny, I keep both my comic books and porn stashed in the same place. I call it my "completely unrealistic portrayals of women that undermine any reasonable expectations I might have of actual, real-life female-people" pile. But sometimes I just call it "porn stash" to save time.
Thank you, Jen, for offering up this beautifully-crafted reprieve from an onslaught of Star Wars cakery. Check out more of Jen's work in the Jen's Cakery Flickr Photostream.
Enjoy this post? Subscribe to Great White Snark by – or by RSS.