Bento is the high-fallutin' McDonalds Value Meal of Japanese cuisine. A single-portion take-out meal usually consists of rice, fish, or meat and one or more pickled or cooked vegetables.1
Yeah, sounds annoyingly healthy and boring, doesn't it? But nothing that can't be Supersized by an enterprising and talented Star Wars geek like Rena, discovered via my blogger buddy Eric at Geekadelphia. She crafted these artful, 100%-edible Star Wars bento meals for the Bento Challenge on LiveJournal.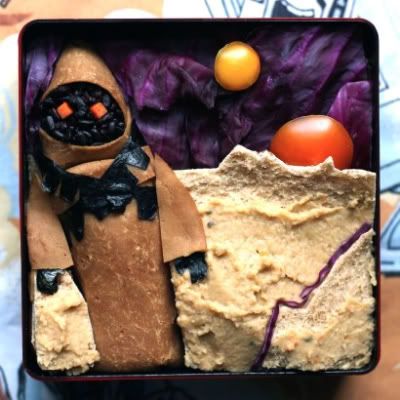 Source: vingt_deux on Flickr
This bento Jawa features a body made from "two tiny sweet red peppers wrapped in philly style steak tofurkey, with nori ammo belts and hands" and a face of "onigiri [rice wrapped in seaweed] with carrot stick eyes."
Pita bread with white bean and chickpea spread serves as the Tatooine desert backdrop, and tomato moons occupied the red cabbage sky.
Appears to be missing a tofu and zucchini-spears Sarlac pit, but pretty damn impressive, nonetheless.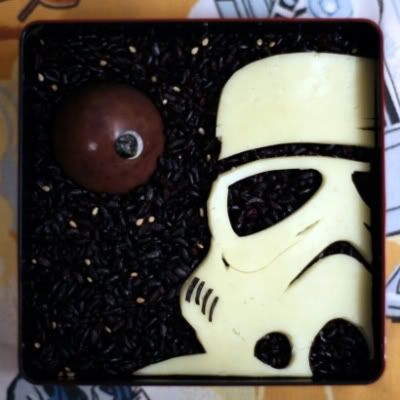 Source: vingt_deux on Flickr
A hardboiled egg Death Star floats in the forbidden rice and sesame seeds of outer space, serving as the backdrop to the Monterey Jack cheese Stormtrooper with nori accents.
Monterey Jack? I never thought I'd say this, but my lactose intolerance won't let me eat Stormtrooper.
Follow my StumbleUpon profile for more geeky randomness from around the Web.
Enjoy this post? Subscribe to Great White Snark by – or by RSS.