As far as comic book superheroes go, Daredevil doesn't really do it for me. My delicate geek sensibilities weren't even insulted when Hollywood foisted the strikingly mediocre Daredevil flick upon us. I'm just that indifferent to the character. He could be in Power Pack (the Walter Mondale of Marvel's superhero teams) for all I care.
But I tell you what… when illustrator and cartoonist Rhys of The Plastic Age shared his Daredevil tattoo with me, I immediately heard Joe Esposito's anthem "You're the Best" from the Karate Kid soundtrack in my head.
And, yes. That's a good thing. It replaced a Starship song from Mannequin that's been stuck there for a while. (Don't ask.)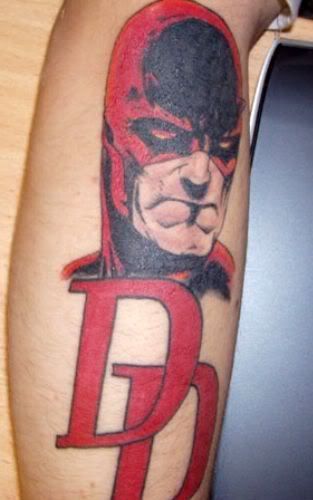 Rhys spent a total of two hours in Andy Gould's chair at the Colours of The Bay tattoo studio having the ink done.
It was inspired by my obsessive love for the character, Daredevil is by far my all time favorite character, he just appeals to me, I don't read alot of superhero comics, except for DD, and the image comes from a Joe Quesada poster. A few years later its still as bright and vibrant as when it was done.
Do you have a geeky tattoo you'd like to show off? Contact me with a photo and description, and I'll consider profiling it in a post on this here blog.
Enjoy this post? Subscribe to Great White Snark by email or by RSS.