I never thought I'd be directing kudos anywhere near the vicinity of Michael Bay's vision of the Transformers.  I'd sooner find a way to stuff the Oscar ballots for The Mummy 3 as Best Picture and Brendan Fraser's hair in the Mummy 3 as Best Visual Effect.
But then Sugar Lust's Dora (of Optimus Prime Transformers birthday cake fame) delivered her confectionery rendition of Bay's Bumblebee to my e-mail inbox.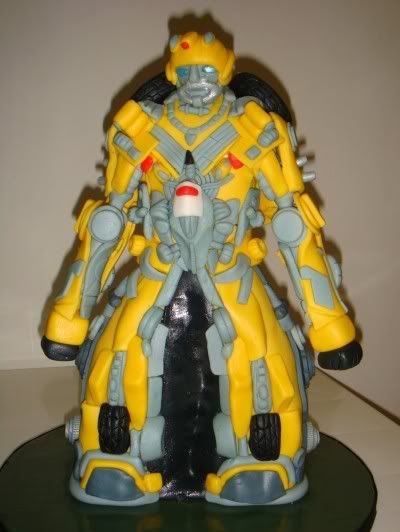 It actually sounds like it was a worthwhile exercise to desecrate this cake's beautifully-detailed outer layer to get at the filling:
This was a Madeira cake baked with Varlhona cocoa and melted chocolate, with Belgian chocolate ganache between layers.  It is cake from the waist down, with the top all in sugarpaste.
Yeah, yum.  Not for nothing, but "it was all pound cake from the waist down" fairly describes a blind date I once had. And… I think I'll leave it at that.
So who's the lucky upstanding citizen who pulled babies from a burning building to deserve a spectacular Transformers cake like this?
Friend Jackie wanted a Bumble Bee cake for her 4 year old Tristan's birthday, after seeing pix of Optimus Prime.  Then father and son decided that the car version was just not good enough and wanted the robot version if I could make it.  When they emailed me the pictures of Bumble Bee from all angles, I thought it was impossible because of all the unbelievable small parts and details.  But I was challenged and wanted something to better the Optimus Prime cake.
A four-year-old? Hey, good for Tristan for having high expectations, but imagine his disappointment when his next birthday cake fails to actually transform.  Or respond to voice commands. Or clean up his toys for him.
Flatly: we spoil our children.  (And only 54% of that statement is born out of bitter jealousy.)
I mean, actual engineering went into this cake.
Each part was measured and cut to size for 3 consecutive evenings (I work full time).  Cake was covered in fondant on Saturday with all the parts slowly assembled and sugar-glued in place.  The time taken for the execution and assembly was not that difficult, but planning the construction; how to hold the whole figure in place, was the toughie.  For me this is an engineering feat.
Whenever anyone engineers anything for me, it usually involves a detailed requirements document and a pretty hefty check. I assume Tristan is supplementing his family's income with some sort of marketable skill he developed in his vocational pre-school classes…?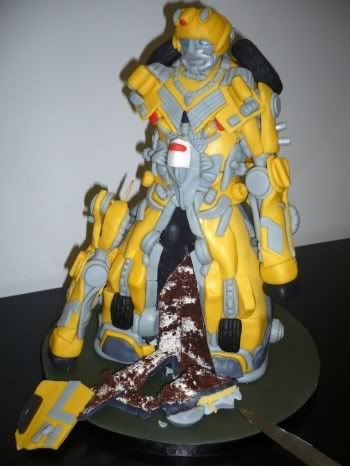 Well, anyway.  At least "sharing" is a part of Tristan's education, even if "you can't have everything you want in life" is not.
The proportion was "fattened up" to allow more cake.  But we still added an additional cake just to make sure everyone at Tristan's Transformer themed party got a share.
Thanks to Dora for sharing her latest geeky cake creation.  Her talents continue to impress.  Check out more of her amazing 3D cake work at Sugar Lust.
Find Transformers cake toppers on Ebay