Guess what I've got that you don't got? I mean, besides a Batman tattoo and my unofficial chairmanship of the Committee to Elect Sarah Palin to President of the Party in My Pants.
I've got a slab of leftover Star Wars cake in my fridge.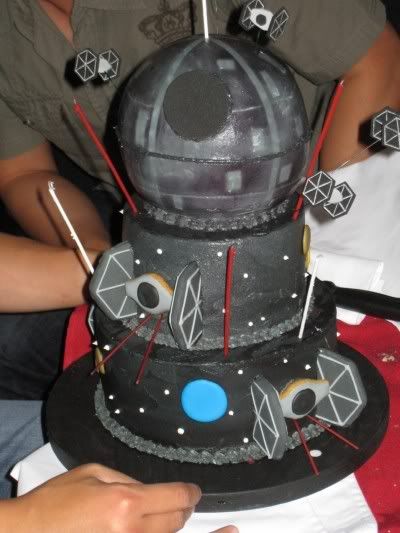 Go ahead. Try to smite me with your jealousy. But it won't work. The internet tubes weren't designed to allow that sort of traffic packet or whatever.
This past weekend, the wife of my buddy–frequent GWS commenter Nickolai–surprised him with a fantastic Death Star cake for his 30th birthday.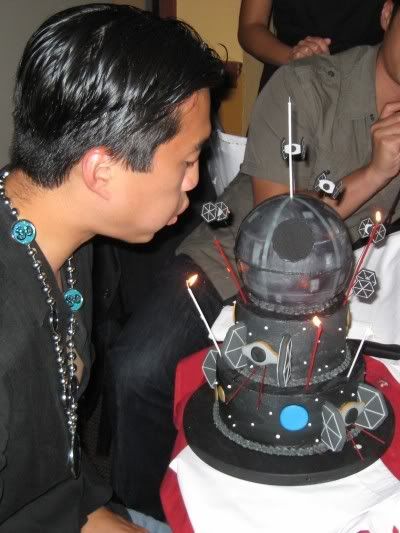 Yeah, you didn't think a dude named Nickolai would be Korean, now did you? Well, that just proves what I've been saying all along: you're a racist. For shame.
Nickolai's wife actually found the cake artisan, Jeff of the San Francisco Bay Area's Fabino, through this here blog. Jeff has been previously-profiled on GWS for a Batman cake complete with utility belt.
I even got involved in the planning stages. (I prefer the conception stage, if you know what I mean. Eh? Eh?) As you can see from the sketches, we opted not to go with the version that had a Death Star-shaped tumor growing out of the side.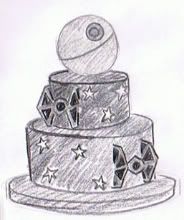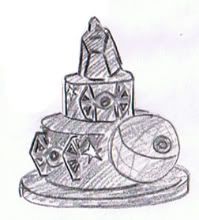 The flavor? Fugging delicious. Seriously. Gray frosting shouldn't taste that good. Other than that, all I can tell you is that there was white cake up top, and red velvet in the bottom tier. 100% cake, with a dowel running down through the center.
It was enough to feed almost thirty people and still have the middle tier leftover. Which, of course, I claimed for myself for "research purposes." Never have I been so happy to have the completely obscure distinction of being a highly-regarded (ahem) geek cake blogger.
Chime in and let Nickolai know what a fortunate bastard he is. Check out my Flickr photostream for more pics.
Enjoy this post? Subscribe to Great White Snark by – or by RSS.