Cartoonist Rhys of The Plastic Age–also of Daredevil tattoo fame–treats his body like a temple.  A temple where the worshipers draw comic book characters on the walls. And the walls are sort of hairy.
This week, he's sharing the before-and-after versions of his Hellboy tattoo.  First it went from black-and-white to color, and then featured a fantastical beast. The whole thing is very Wizard of Oz, but without all the little people dressed like gnarled forest gnomes.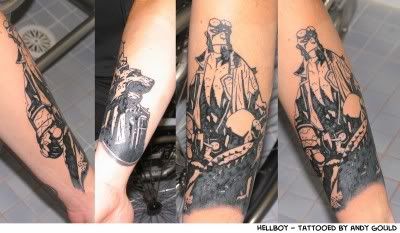 …and then with the introduction of Technicolor and some CGI effects:


But wait! There's more!
Glad you dig the Hellbot tat, it took a loooong time and quite a bit of punishment. I'd still add more to it, when I finally have time enough to go, and money enough to go.
Hm. Doesn't look like there's much more free space.  What's left to add?  3D effects? Scratch-n-sniff? (Mmmm, delicious devil-man odor…)
What do you people think?  Prefer the austere black-and-white version, or the Technicolor-enhanced version?
Do you have a geeky tattoo you'd like to show off? Contact me with a photo and description, and I'll consider profiling it in a post on this here blog.
Enjoy this post? Subscribe to Great White Snark by email or by RSS.