You know how I know that Natalia of Melbourne, Australia's Nati's Cakes and cake-making how-to site How 2 Cakes made this Bender cake? Look, there's her signature right across the middle of the photo, there.
That fancy cursive is the sort of thing you'd have to pay extra for on a cake. But apparently I can have her signature obscure a photo of her cake for free. Sigh. At least I did you people the favor of cropping out the Glamour Shots-style soft-frame effect. Blarch.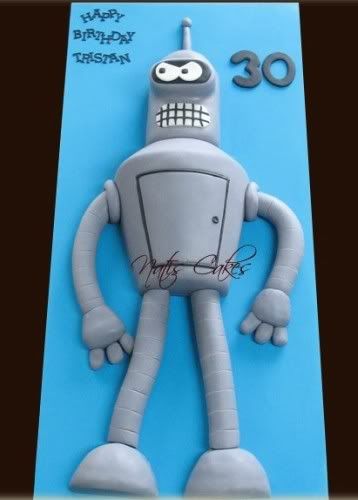 So, I did more or less agree to help Natalia shamelessly promote herself when she sent the photo, so I guess I can't complain. Much.
Anyway… let the promotion of a shameless variety begin!
I have a small cake business that I run part time from home, and work full time as a software developer. Bender was made for a friend of mine from work. I got invited to his 30th birthday and decided to make him the cake as a gift. He loves Futurama (so do i, but my favourite character, Dr. Zoidberg would be a bit more of a challenge to make out of cake ;) )
Man.  Speaking of things I'd be glad to pimp on this blog.  Any of you cake-makers out there have a Dr. Zoidberg cake you'd like to share?  Bonus points if you don't watermark the photo with your signature… fancy-pantsy as it may be.
His head, torso and feet are all cake, (dark chocolate mudcake filled with dark chocolate ganache). He is covered in grey fondant, and his legs, arms and hands are made with rolled and/or moulded fondant. All the trims are also fondant.
Right, right… blah blah chocolate chocolate blah blah fondant blah blah. Fondant. Blah.
When the description starts with "dark chocolate mudcake," I'm pretty much good to go.  The rest is all icing. So to speak. In a pun-ish way.
Tristan refused to cut it, and kept it for a few days on his dining room table, and a few days after his birthday had a few friend's over to cut the cake.
Kept it at his dining room table?  Did he treat it as a dinner guest?  Now that would be a good story.
(Have you also seen the previous Bender cake on GWS?)
Enjoy this post? Subscribe to Great White Snark by – or by RSS.