Sasha and Rick Reichart of cakelava bakery are going 3-for-3 on the Star Wars cake front. First came the stellar Death Star cake, with its tower of mind-bending, hand-made Star Wars cupcakes. Then: the R2-D2 cake. (No cupcakes. Meh.)  And now, the piece de resistance: a Millennium Falcon wedding cake.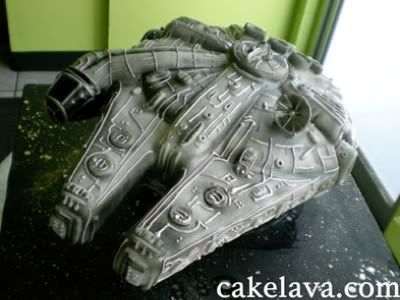 I tell you what… if they can somehow pull off a structurally-sound X-Wing fighter cake (with s-foils locked in attack position, of course)–a feat heretofore unseen on the internet viewing monitors–I'm fully prepared to bestow upon the Reicharts the title of Mr. and Mrs. Lord Awesometon of Star Wars Cakeinshire.
And you know how I hate to bestow ever since I got that tendinitis in my left scapula.  So… you have an idea how much an X-Wing cake would mean to me.  (And now… I will stare intently at you people until someone takes the hint.)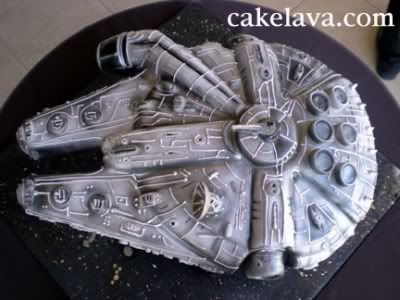 Rick decided to do the cake in fondant and had it propped up on a platform made of cake to appear that it was in flight, which may be hard to detect in the photo. The flavor is Hot Fudge Sundae which is a chocolate cake with fudge, fresh whipped cream and raspberry preserves for the filling. Yum!
You know what else makes it appear that the Falcon is in flight?  Pick it up and swing it around while making "vroom vroom!" sounds.  Saves you the effort of making that little cake platform.  That's all I'm saying.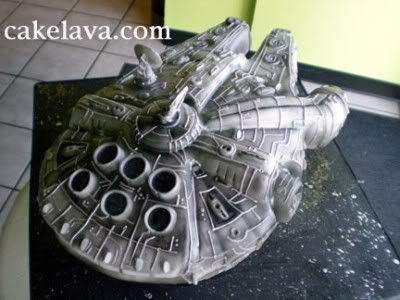 When we delivered the cake, we instantly had a small crowd of people around it, both vendors and the catering staff. One of the catering ladies looked bewildered and was asking some of the men gathered around the cake "what is it?" The response, "The Millenium Falcon" sort of like, DUH! and she said "Well, I'm not a Trekkie" and we all had a laugh and the men instantly corrected her. Heh.
Oh, ha ha, isn't that charming.
When I'm king, that's exactly the sort of mistake that will get your citizenship revoked.  You've been warned.
For their wedding cake, our couple, Karla and Jason went with a cupcake tower with their monogram on each cupcake but all the attention was definitely on the MF cake.
In other news, people are more interested in looking at flat screen TVs than at monogrammed hand towels.
Thanks to Sasha for sending along the pics and the deets.  Check out the cakelava blog, where the Reicharts profile awesome cakes, interview professionally interesting people like me, and do other sensible things.
Enjoy this post? Subscribe to Great White Snark by email or by RSS.