Flickr user papekura is quite the papercraft artisan, as you can see in her photostream.  But this model inspired by Howl's Moving Castle–one of the few, delightful Japanese anime flicks that doesn't confuse me to the point of eye-crossing exhaustion–more-than-stretches expectations for what can be produced with:
…a lot of x-acto knife blades, tons of patience, [and] fifty sheets of paper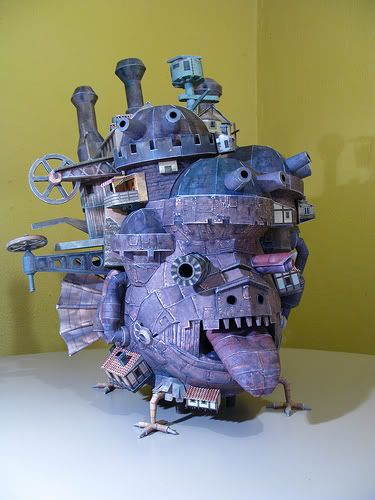 Damn. And I was excited when I finally figured out how to make a ninja star out of two sheets of notebook paper.
Of course, you can't poke somebody's eye out with a big, freaky castle… so I don't feel quite so inferior.
Thanks to Super Punch for the find.
Enjoy this post? Subscribe to Great White Snark by – or by RSS.