In last week's Millennium Falcon cake post, I strongly suggested that GWS was about due to receive an X-Wing cake from some enterprising confectionery artisan. Every day since then, I've been shaking my electronical mail "in" box, hoping for something good to fall out.
Thankfully, at least one of you was paying attention.
Well.  Sort of.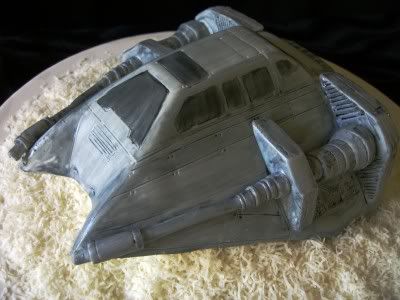 This week, we're graced with a Snowspeeder cake–featuring vanilla pound cake with banana mousse filling–from Crazy Cake Company's Lien Sanchez, the mastermind and uber-talent behind the unrivaled Stormtrooper cake, seen on this here blog almost a year ago.
So…this cake was for my nephew, Ken, who turned 16 in August.  Of course, the week before his birthday, he calls and asks if I was going to make him a cake for his impromtu birthday party the coming Saturday.  I already had plans to enter a couple cake contests in the CA State Fair that same weekend so I told him that I'd try but that I may not have time to.

After looking at my schedule for the week, it became pretty evident that I would only have time to either bake and decorate the cakes for the State Fair contests or make the Star Wars cake for Ken.  In the end, the guilt from disappointing my nephew won out and I consulted the hubby on possible Star Wars cake ideas.
Wow.  Foregoing an opportunity to see competition-level pigs and giant pumpkins in favor of serving a teenager's whims?  You and I clearly have different priorities, Lien.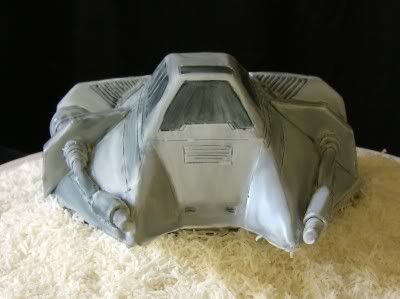 I scouted online for snowspeeder blueprints and found some great pics that I used to reference for scale and details (seen in the background of the cake carving pics)  As I mentioned previously, I wasn't 100% happy with the snowspeeder because 1) the guns were a tad short 2) the color wash technique I used to bring out the details on the side of the cake also left streaks and drip marks (should have airbrushed) and 3) short on time, I used shredded coconut to similate snow which ended up looking like the speeder was resting on a fluffy white bathrug, lol.
Ok, I wasn't going to say anything, but yeah, that "snow" looks like it came straight from a noodle factory.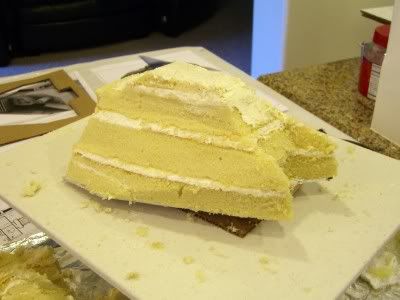 When I delivered the cake to Ken's party, he immediately recognized what it was from across the lawn.  And after thanking me for the cake, he pointed out that I forgot to put the orange markings on the snowspeeder – ungrateful kid, humph!  (In my defense, 90% of the pictures I found for the snowspeeder did not have the orange markings.)
Dear Ken:
Capital punishment for ungrateful whelps is still legal in these parts, so we can happily arrange for some red marks across your bottom parts.
Best Regards,
Aunt Lien
At the end of the day, Ken's friends thought the snowspeeder cake was cool and I guess that's all that really matters when you're 16, right?
Totally.  Boobs are entirely inconsequential to a 16-year-old, so, yes… that leaves "having a cool cake."
Lien, it was great to hear from you again, and with another distinctive Star Wars cake.  I'm even moved to suggest that people check out more of your work in your Flickr photostream.