The big brains behind the 11th annual New York Chocolate Show (running until Sunday) have figured out what young lovers buying Hershey's syrup from a 7-11 at midnight have always known: sex sells (chocolate).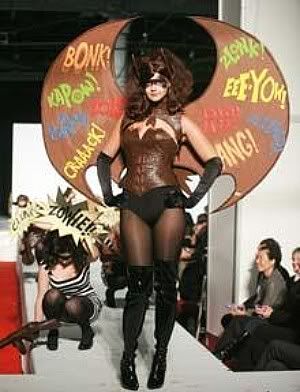 Courtesy of Super Punch, you are glimpsing (in this disappointingly low-quality photo) a bit of the action from the event's fashion show.  Via Telegraph.co.uk:
Bat Girl sported a fitted chocolate bodice as well as large chocolate wings with the classic comic-book words 'Kapow' and 'Bang' painted onto them.
That's right, folks.  That is a model dressed as Batwoman wearing a 100%-chocolate bodice.  My libido doesn't even know where to begin.  (But "boobs" pops to mind.  As it usually does.)
But wait!  There's more!
The Lara Croft outfit comprised a chocolate bikini top and chocolate hotpants complete with a chocolate holster and guns.
Check out the Lara Croft bikini and more images in this article.
Enjoy this post? Subscribe to Great White Snark by – or by RSS.