Of course I was disheartened by a couple of the painfully-misguided reactions to last week's Mickey Mouse Transformer atrocity.  (FYI, if you ever find yourself describing a piece covered on this blog as "cute"… something has gone terribly awry.  Please adjust your settings.)
But no adversity shall divert me from my mission, which is–first–to judge you.  And second, after the judging… to educate you.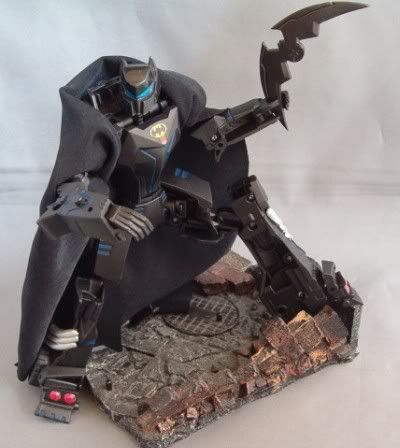 So, let me continue my mission and enlighten you to this completely-acceptable mashup.  Custom toy-builder extraordinaire Shinobitron (check out his gallery) fashioned this transforming Batman out of a 'bot from the Transformers Animated universe:
I used the new [Transformers Animated] Lockdown as the base and removed the head completely. The head is based off of the Nightfall armored Batman. I created a new joint out of a GI Joe missile base and an Armored The Batman figure. I painted the entire figure flat black and the brushed transparent yellow on the window sections to make it look like tinted glass. In bot mode I gave him shiney blue eyes and fixed the hands so they can open the entire way. The cape is cloth and connects under the armpits. For a final touch I filled all lines with blue to give him an energy coursing look.
Ah, yes, a fabric cape.  Because nothing goes with big, greasy gears on a giant robot like a swatch of fabric.
Nothing to go wrong, there.  Nope.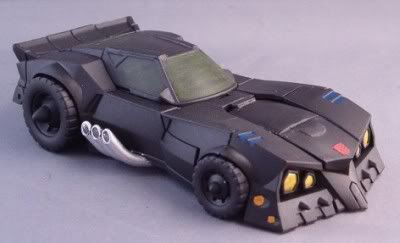 Enjoy this post? Subscribe to Great White Snark by – or by RSS.