Artist pirie1 knew what he was doing when he created this piece for Halloween.
There's something really striking about this photo of an Alien bursting out of the chest of a custom LEGO figure.  The contrast of horrific violence against a normally-placid, mirthful visage.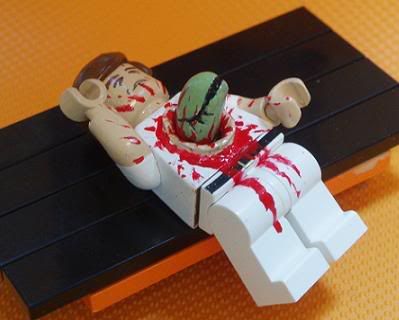 It's like watching Dakota Fanning beat a homeless guy.  Or seeing Barney drop the soap in a prison shower.  Or witnessing the result when Santa Claus flies his sleigh too close to a 747's jet-intake.
Not that I'm enjoying coming up with these analogies or anything.
Thanks to Brothers Brick, via ToyBender, for the find.
Enjoy this post? Subscribe to Great White Snark by – or by RSS.