If you can count on Japan for two things, it's (1) having cell phone technology that will finally arrive here in the States about the same time as "green" cars that run on apple juice and cat farts, and (2) inventive (i.e., fuggin' weird) new fetishes and ways to capitalize upon them.
In fact, just this week, news came out that a Japanese online lingerie retailer's latest best-selling product is a bra for men.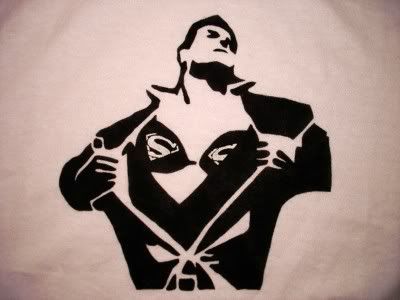 Etsy user nontrendy, who knows a burgeoning trend when she sees one, created this hand-stenciled t-shirt print of Superman exposing his Supermanzier.
A clever parody.  Meanwhile, you know there's actually a dude running around with a Hello Kitty man-bra under his suit, right?  I mean, it's practically a given.
Thanks to Fashionably Geek for the find.
Enjoy this post? Subscribe to Great White Snark by – or by RSS.