Lori of Clever Cake Studio made this Indiana Jones cake based on the idol-stealing scene from Raiders of the Lost Ark for a kid's birthday party, so there's very little chance that there are poison darts, collapsing bridges, or huge, rampaging boulders among the layers of fondant-covered chocolate cake and homemade vanilla frosting.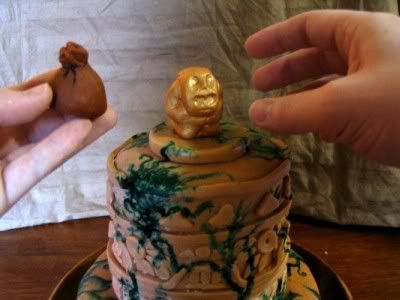 Which is too bad.  Today's kids have it too easy.  There's no reason why eating a slice of birthday cake shouldn't be trickier than navigating the labyrinth beneath the Fratellis' hideout in The Goonies.
Make 'em work for it, I say!  If it's good enough for Corey Feldman, it's good enough for little Mr. My Parents Bought Me a $200 Cake for My Birthday That I'll Forget As Soon As I Open My Gifts and Find a New Game for My Xbox.
From Lori:
The vines and greenery are all just painted in food dye.  The Idol is made of marizpan and painted with aztec gold luster dust (made into a metallic paint with a tiny bit of grain alcohol).  I also made a little marzipan bag, so they could perform the famous switch (action shot below with help from my very own sexy adventurer, my husband).
Yes, terribly sexy.  In the sense that they just look like a regular pair of hands and don't feature any obvious open sores.
Thanks to Super Punch for getting into the geeky cake game.
Find Indiana Jones replica props on Ebay
Enjoy this post? Subscribe to Great White Snark by – or by RSS.