I'd use "placid" to characterize the appearances of most of the Yoda cakes that have appeared on the 'lectric pages of this here internets blog.  And maybe "constipated" for that one guy.  But hardly a threatening countenance amongst the bunch.  I get more of a nervous tingle from cross-dressing superheroes.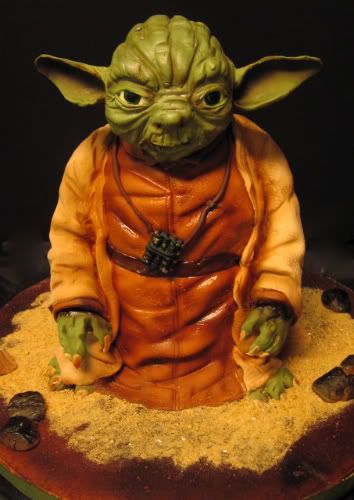 But this one-foot-tall cake from Debbie Goard of San Francisco's Debbie Does Cakes has got the look of a bastard with an itchy trigger-finger about him.
Back in July I was asked by Google to take part in an auction for the PBS tv [kids' cooking] show DOOF.  Jessie Leong of San Mateo won and decided to use  the gift certificate she won for Kevin's 7th birthday.  She had seen my Yoda Face cake and asked if I thought I could do Yoda standing.
Really?  Did Jessie also specifically request for her seven-year-old a figure with the cold, hard eyes of Clint Eastwood circa Dirty Harry and the slumped shoulders of an angry drunk?  And little, clawed Muppet talons primed and ready to reach out and force-choke a suckah?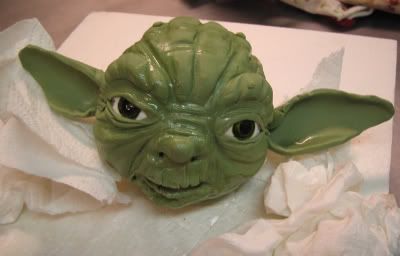 Yoda's head  was made from rice krispies treats, modelling chocolate and fondant.  I made the head a few days in advance. Just doesn't feel right if I don't have a disemboweled head staring at me throughout the week, lol!
I know what you mean.  I'm the same way about dried squirrel entrails hanging from my rear-view mirror.  Everybody's got their funny little things, I guess!
The body was made up of Rich strawberry cake with a bavarian custard filling. The body was then covered in fondant and airbrushed.
Airbrushed, eh?  Like make-up?  And Yoda's a little less intimidating when I know he's filled with Bavarian custard.  I mean… hello, dandy!
Just, you know… don't tell him I said that.
Check out the previous geeky cake work of the ever-popular Debbie Goard here on GWS: R2-D2 cake,  Optimus Prime cake, Millennium Falcon cake, and Darth Maul cake.
Enjoy this post? Subscribe to Great White Snark by – or by RSS.