« This Star Wars Yoda Cake Is About Two Beers Away from the Dark Side – Geeky Cake of the Week | Main | This Carving of Sideshow Bob from the Simpsons Makes a Single Turnip a Little Less Useless »
By Great White Snark | December 11, 2008
No, this isn't part of a line of toys cross-promoting a ridiculous new storyline in the Batman comics.  Though barnyard animals would provide a welcome reprieve from DC Comics' nearly-indecipherable storytelling of late.
Not a good sign when I have to visit Wikipedia to explain the comic book I just read.  My occasional spasms of mental incompetence can only account for part of the blame.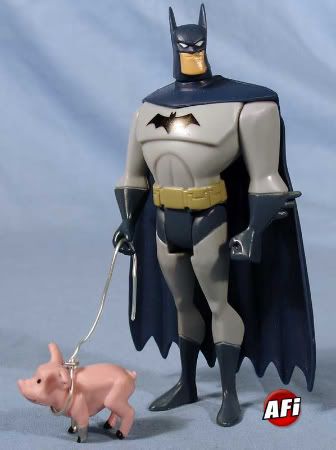 Anyway.  Tangent.
Courtesy of Action Figure Insider comes this Batman action figure and sow-ish accessory inspired by an episode of the not-at-all-confusing Justice League Unlimited, the fantastic cartoon series that aired a scant few years ago on Cartoon Network.
And that's no ordinary pig.  That's Wonder Woman, who has been transmogrified into Wonder Pig by Circe, the Greek goddess of casting bitchy magical spells or something.
Kind of beats some little plastic bat-a-rangs, eh?
If you're the sort that likes your action figures a little on the quirky and/or porky side, you can pick up Batman with Wonder Pig here on Amazon or on Ebay.
Find more geeky toys on my Lootist profile, updated daily.
Enjoy this post? Subscribe to Great White Snark by email or by RSS.

You may also like these stories:
Topics: Batman, Cartoons, Toys | 1 Comment »
Tags: Batman, Cartoons, Geek Loot, Justice League
One Response to "Geek Loot: Meet Batman's New Sidekick, Wonder Pig"
Hannah Says:
December 11th, 2008 at 8:10 am

Kinda makes me think of all those action figure battle pictures floating around the internet. That's some cute pig!
Comments