Much like George Lucas's penchant for writing screen plays, the Beverly Hills Cop franchise, and the biological conception of any of those jacktards on The Hills… turnips probably started out as a reasonably good idea, but at some point took a hard left turn at "no longer retaining any merit."  Except as a punchline on The Office.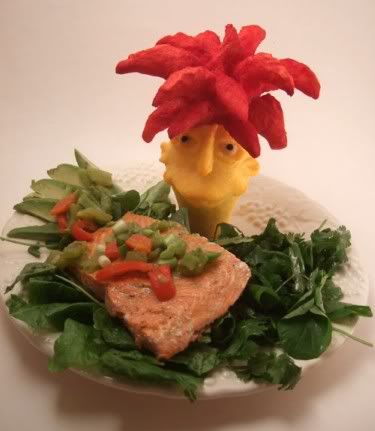 Then the tides of of turnip utility changed (briefly) when the minds behind the Only Knives blog let loose upon pair of jicamas (i.e., "Mexican turnips," don'tcha know) to carve Sideshow Bob from The Simpsons with a Kershaw Ken Onion Leek Folding Knife.
Although I suppose any ol' knife of the sharp-and-pointy variety would have done just as nicely.
The hardest part of making Bob is keeping the hair from falling apart.
Really?  I thought the most difficult part would be spending so much time in intimate contact with such an insultingly-useless vegetable.
Enjoy this post? Subscribe to Great White Snark by – or by RSS.