I feel like LEGO customizer pirie1 on Brickshelf has got some latent issues against LEGO mini-figs that he's trying to work out.  First came the beautifully grotesque Alien chest-burster custom mini-fig.  And now there's this gruesome zombie custom mini-fig, which is strongly reminiscent of the charred LEGO Two-Face mini-fig.
That's a lot of abuse visited upon the most mild-mannered of figures in the land of toydom.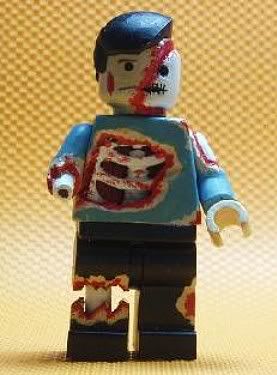 Yeah, so, looking at this again… maybe pirie1's issues with these cute little LEGO guys aren't so latent.
Find custom LEGO mini-figs on Ebay