Sasha and Rick Reichart of cakelava bakery in Oahu, Hawaii, keep me well-fed in Star Wars cakes.
I mean, not so much with me getting to actually taste anything.  But they do produce a steady stream of Force-tastic cakework to help me populate this "Geeky Cake" post every Tuesday night.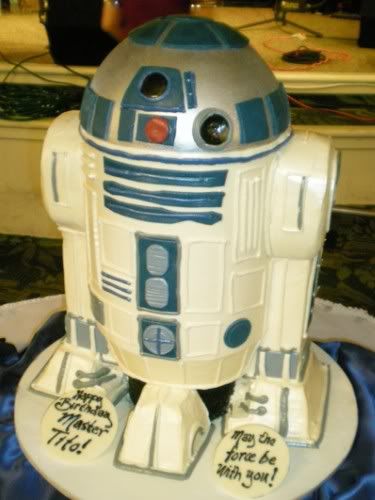 Which is good news for you, because without these cakes, I'd just be showing you more pictures of mutilated LEGO figures.  You know it's true.
Speaking of seeing things that will traumatize you… Rick crafted this R2-D2 cake along with a towering Hello Kitty cake (including themed cupcakes!) for a joint birthday party.
Though the room was completely decked out in Hello Kitty (centerpieces, balloons, etc), R2-D2 held his own on the other side and the two icons co-existed beautifully.
That sounds generous to me, Sasha.  Unless by "co-existed beautifully," you mean that R2-D2 didn't spontaneously combust in the presence of all that pink vomitus and the high-pitched, schoolgirl giggling that it entails.
It was probably one of the stranger pairings, R2-D2 with Hello Kitty, but again, in some worlds it is all perfectly normal.
No, pairing peanut butter and jelly is "normal." Pairing Hello Kitty with Star Wars is "Japan."
Like our previous R2, Rick chose to use buttercream icing, and the client chose our Hawaii Five-0 flavor which is a pineapple cake with fresh bananas, coconut cream, and mango curd. Some of our clients say it is similar to pina colada or ambrosia, and one of our clients calls it "Sex cake."  It's very popular and absolutely delicious!
If people like the flavor so much that they're having sex with it… yeah, I can see how it would be very popular.
Thanks to Sasha for passing along the details.  You can check out more on the R2 cake and the incredibly well-crafted yet completely-nauseating Hello Kitty cake on the cakelava blog.  Or you can knock yourself out seeing their previous work on GWS, including the Death Star cake with Star Wars cupcakes, the previous R2-D2 cake, and Millennium Falcon cake.