You know I'm not one to repost items that have already been through more grubby, little blogger-hands than pictures of Kristen Bell in a Slave Leia bikini.  But this is a pretty special piece, and I've managed to unearth a key detail that you won't find elsewhere…
Intrigued, yet?  'Cause they don't make teasers any more teasery than that, people.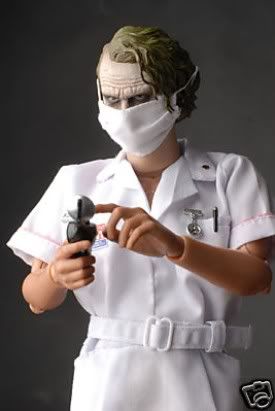 Via Topless Robot, by way of TOYSREVIL, as seen on some toy forums site in an Eastern-hemispheric-type language I can only describe as not English… you're looking at an impressively high-quality collectible Joker figure inspired by The Dark Knight.  But this isn't an officially-licensed item you can buy in stores.
No, this is a Hot Toys 1:6 scale Joker figure stripped-down and redressed in a completely custom-made, highly-detailed nurse's outfit.  The glut of accessories that accompanies the set includes a surgical mask, detonator, Dent sticker, pen, clip board, pistol with silencer, pocket watch, white shoes, socks, a special Joker card, and more.
And here's the good news: I actually tracked down* the Ebay listing of the guy in Hong Kong who's been selling these custom-made, Joker nurse accessory packs (figure not included) for 37 bucks a piece.
So if you're already the proud owner of a $175 Hot Toys Joker figure (or, you know… any other 12-inch figure you'd like to see in a nurse's uniform), you'll be pleased to know that this dude offers "free shipping to worldwide via Airmail" (including Latvia!), and has the positive feedback to prove it.
Check out the Ebay listing for more pics and deets.
* Quite a feat, I know. I learned Google so you don't have to!