Now this is how it should always be when someone sends me a picture of their Batman symbol tattoo: with flirtatious adornment by a leather bustier thingie, a plaid mini-skirt, and stockings.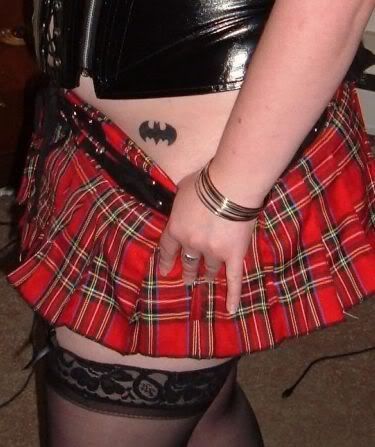 Hell, it might even make some of the Batman tattoo pics I get from sketchy shirtless dudes a bit more tolerable.  In terms of their hilarity, of course.  Not in terms of their appropriateness for the password-protected "Special Me Time" folder on my computer.  Obviously.
Vicki Vale (real name withheld by request) tells us a bit about her work:
I have a classic Bat logo one. I had always wanted one since I was 17, but the time never felt right. I had it done on November 26th, the day R.I.P. finished (I will not comment on that storyline). It sits on my left hip, as you can see. A plain one, looking at the rest of this site. I'm still damn proud of it.
Oh, Vicki, don't mistakenly compare your ink to the other colorful, artistic, massive and otherwise eye-popping Batman tattoos here on GWS.  Instead, judge it against my woeful little Battoo.
As in most cases where you might compare yourself against me, I guarantee you'll come out feeling like the fresh-scented winner of life.
Except for building blog machinery out of LEGOs, cake fondant, costume fabric, and tattoo ink.  I'm the undisputed master of that (tiny, tiny) domain.
Enjoy this post? Subscribe to Great White Snark by – or by RSS.