The world will run out of contestants for The Biggest Loser before it runs out of Yoda cakes.  Which–I know–is saying a lot.
Although you gotta figure that as long as there are Star Wars cakes and other treats of meteoric calorie count, there will be morbidly-obese reality-show-contestant wannabes.  Such is the circle of life.  (I think.)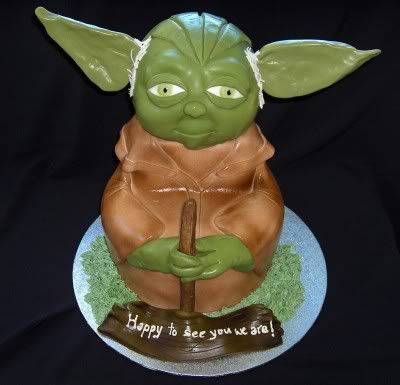 This porcelain-like, vanilla with strawberry buttercream filling Jedi master comes to us by way of Judy of Frostings by Judy.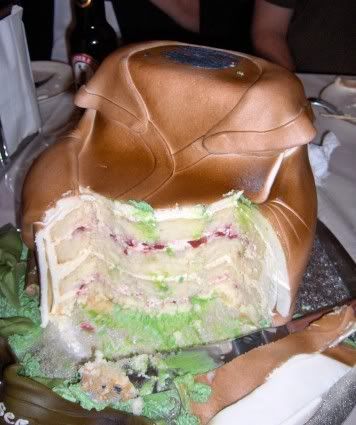 I made it in August of 2006 for my brother Jacques because he had been away in South Korea teaching English as a Second Language and we hadn't seen him in over a year.  It was a belated surprise birthday party.  He's a big Star Wars fan so that's why I chose Yoda.
Someday, a cake artisan will send me a description that says, "He couldn't possibly hate Star Wars any more than he does, so I made this cake in a fit of irony.  And also… pettiness."
It was covered in fondant, and I airbrushed the clothes.  I made the ears on long skewers well ahead of time so that they would dry and inserted them into the cake once I made it to the party destination (an hour and half drive away).  It was a nerve wracking drive, trying not to make too many sharp turns in the car so that Yoda's head wouldn't fall off.  My brother was totally surprised and loved the cake.
And perhaps someday, we'll find out that a recipient "was completely dismayed by the cake, and ruined his whole surprise party with his mindlessly-violent tantrum."
But until then, I imagine we'll continue to be plagued by well-intentioned cake artisans and gracious cake recipients.
Sigh.  Anyway.  Thanks for the deets, Judy.
Enjoy this post? Subscribe to Great White Snark by – or by RSS.