I got another treat in the electronic mail receiving receptacle this week from Nicolas, who shared a photo of his Megatron Transformers tattoo… along with an exuberant description.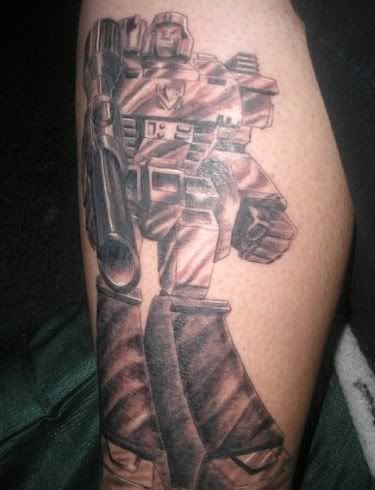 Staring at you with some BA red eyes threatening to bring out all the decepticons to take you down (don't act like your not afraid). People see it and they run like an Autobot with it's muffler between it's legs (Okay maybe not) It took two sittings to get it done, outlined and then shaded and it hurt like a mother when it got near my calf but it's worth it.  Does me carrying his around make me Starscream or am I safe because he's not in his gun form?
I'm all for enthusiasm, but does anyone else get the sense that Nicolas spends an inordinate amount of time standing in front of the mirror, flexing his calf, and repeating, "You talkin' to me?  You talkin' to me?"
(That's a Taxi Driver reference, people.  Go out and see a movie not starring Will Smith or not directed by Michael Bay, why don't you.)
Enjoy this post? Subscribe to Great White Snark by – or by RSS.