Allow me to help you enjoy the and appreciate the originality and execution of this Star Wars mini-golf cake without the distraction of wondering what the hell the name of that creature in the corner is. (It's a Ronto. You're welcome.)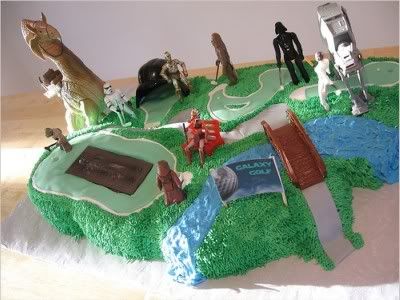 If you're going to neurose about something in this enthrallingly absurd scene, then let it be about the fact that Yoda has missed his shot. (Insert your joke about a disturbance in the Force, here.)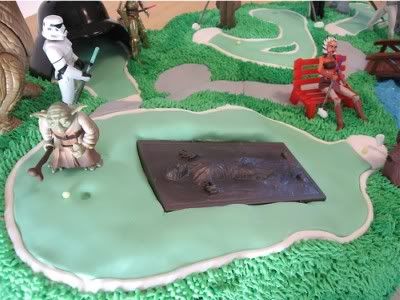 Cake artisan Kellye lays out the details:
It may surprise you to hear that the cake was actually a birthday cake for a pretty cool 4 year old little girl. She's really into Star Wars (clone wars mostly but nobody's perfect)
Well, I'm perfect… but the only testimony to that fact comes from my mother, who is a renowned purveyor of elaborate lies and of succulent Beef Wellingtons. (The lady has a very specific skill set.)
Liking the Clone Wars isn't imperfection, that's just misguided youth. All hope for that sweet little girl has not been lost.
She was having her party at an indoor putt-putt place called Lunar Golf that is positively dripping in black-lights and glowing things (hence the glow-in-the-dark candles). I normally try not to use anything inedible but there was no way I was making all those figures. For a true display of geekiness, you might want to know that the Darth and Chewie were old-school original figures. ;-)
Ah, yes. Kellye is obviously familiar with the rage of the internets against inedible cake elements. (What say you, readers? Are your delicate cake-assessing sensibilities insulted?)
The cake itself is strawberry per her request. The grass and stream are buttercream and the walkway and putting greens are fondant. Everything else is inedible. The golf clubs are toothpicks or kabob sticks (depending on the character's hand size) with a little carved piece of marshmallow on the end.
Here's to Kellye for recognizing that Han Solo frozen in carbonite would make the perfect putt-putt obstacle. Check out more of her cake work in her Flickr photostream.
Enjoy this post? Subscribe to Great White Snark by – or by RSS.