Ok, it only took me five days, but I just now figured out Amazon has been discounting HBO titles all week as a part of their "HBO Week." Which, of course, is now concluding.
And someone just told me we ushered a new President into office this week? Yahweh on a biscuit! What else have I missed?!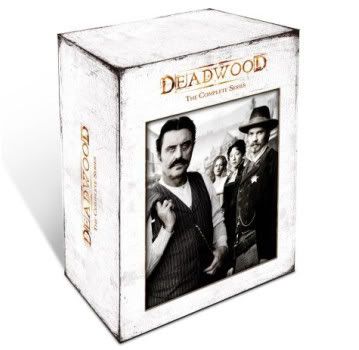 Just for today, Amazon is knocking down the price of the Deadwood: The Complete Series DVD set to $64.99, which is $38 off yesterday's price of $102.99, and 64% off the list price of $179.97.
Deadwood joins Carnivale and Rome in the pantheon of great, geeky TV shows on HBO that got better with each season and were cut short in their prime. In fact, I named it among the top ten most tragic geek tv show cancellations.
And what makes it a geeky show?  Well, I'm a geek and I loved it.  This blog and a personalized autograph from the dude who played Darth Vader should earn me some sort of authority, people.
(And yes, I realize that this marks the second "Geek Steal" post in a row.  A post featuring a fantastic curiosity of the zombie variety is forthcoming later today.)
Enjoy this post? Subscribe to Great White Snark by – or by RSS.