Lewis-Paul sent a carrier pigeon all the way from western Europe to drop a note in my electric mailbox about his "SHIELD logo from Marvel comics using the Ultimate emblem."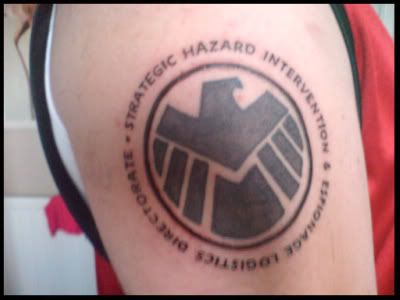 When I asked Lewis-Paul about the inspiration for his S.H.I.E.L.D. tattoo, he said:
Well I always liked the idea of the Super-Spy organisations, and at that time I was playing Marvel Ultimate Alliance, and that image featured prominently
How very impetuous of you.  I'm glad that worked out.
I wouldn't recommend impetuousness for everyone; I really like the idea of underwater societies, and I was playing Bioshock when the idea struck me to get a tattoo of a water-bloated corpse down my right calf.  My judgment has improved since then, but only marginally.
Anyhow.  You can also check out Lewis-Paul's "favourite" tattoo of the Iron Fist logo on the GWS Facebook Fan Page.
Enjoy this post? Subscribe to Great White Snark by – or by RSS.