I don't want to let the state of the economy get me down.  So I do my best to scoff at it.  But what begins with haughty laughter at the latest reports of financial doom usually ends with me crying into a bowl of generic-brand, Honey Nut Happy-O's from CostCo.
Norweigan John Kristiansen apparently feels no such pain. Or he's inhaled a few too many fiberglass particles for his own good.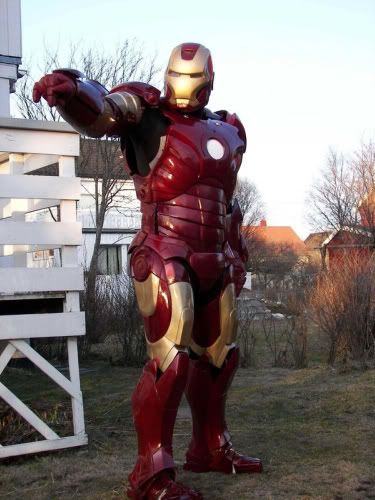 As described in this article from Popular Mechanics, John and his buddies in "TMP" set a goal to build a homemade replica of the armor from the Iron Man movie and complete the project before the flick hit theaters last summer.  And $20,000 later, they discovered that gobs of money can, in fact, make dreams come true.
Oh, and a little bit of talent for molding ABS plastic and fiberglass probably helped.  But, whatever.  Money is where it's at, people. Cha-ching!
Anyway, things went so well for the project (which you can track from its inception in the Replica Prop Forums) that Paramount hired John to promote the Iron Man release in Europe.  (YouTube link.)
And just this week, John released photos of the first pieces of his newest costume replica project, the chrome-plated Iron Man Mark II.  Clearly, his feelings towards the economic crisis have evolved from "indifferent" to "completely oblivious."
Is Norway where money comes from or something?  That would explain a lot, including why I've been having a hard time getting ahold of some.
Find Iron Man costumes on Ebay