Ok, pop quiz time.
Which is more ridiculous?  (A) The new trailer for the G.I. Joe movie, which crosses the action visuals of Wanted with the infrastructure-disintegrating cataclysms of The Day the Earth Stood Still with the stink of a steaming pile of cheese, or (B) the level of cuteness of these custom G.I. Joe Kidrobot Munnies, by cartoonist-turned-toy-artist "Pétrin."
Trick question.  Here's ridiculous: the Snake Eyes Munny and Storm Shadow Munny on Ebay are listed for $149.95, each.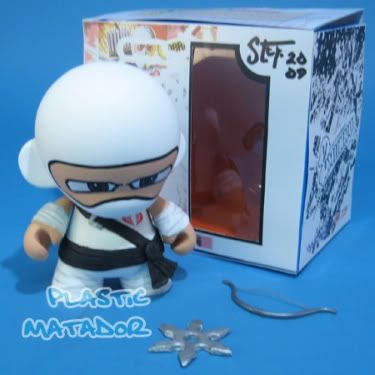 I'm all for showing appreciation for an artist's work, but… these are still just toys, right?  Toys with sweet-ass, custom-made knives, guns, grenades, throwing stars, and packaging… but just toys, nonetheless.
Perhaps the premium price covers these figures' apparent ability to kick the respective asses of Ralph Macchio and Hilary Swank:
Will kick "karate kid" ass for sure maybe "karate girl" to!
Enjoy this post? Subscribe to Great White Snark by – or by RSS.