For this Star Wars cake, Jen Vesper crafted the usually-sinister Hutt to look (intentionally or not) like a startled space slug whose Jabba-genitalia just got stepped on.
Which makes Jabba's race look only 37% as ridiculous as the feather-boa-wearing Ziro the Hutt made it look in The Clone Wars.  What the fans can do to mangle Star Wars… George Lucas can mangle better.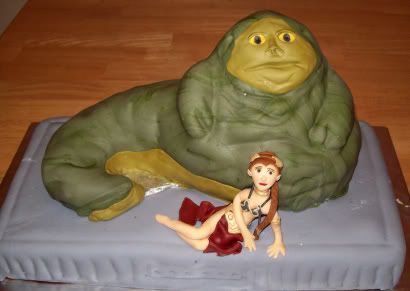 It took 12 hours to make. It was made for my husband's friend Steve. He is a huge Star Wars fan and we thought this would be the funniest choice because it is the "every man's fantasy" cake. :)
Lazing around on a throne like a fat-assed bastard while still managing to attract sexy space-ladies in bikinis is every man's fantasy?
Why, yes… yes it is.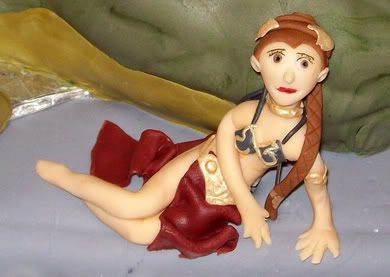 Jabba is rice krispie treats, barge is chocolate cake and Leia is fondant.
Fondant?  More like, Leia is fun-dant!  You know what I'm saying?  No?  Well.  Yeah.  Sorry.
Please to be checking out more of Jen's work on her blog and Flickr photostream. (Thanks, Jen!)
Enjoy this post? Subscribe to Great White Snark by – or by RSS.