As anyone not suffering from head trauma or from Japanese-school-girlism knows, there's no good Hello Kitty except a dead Hello Kitty.  Or an undead Hello Kitty.  Or a Hello Kitty banished to the Phantom Zone.
Right. But mostly an undead Hello Kitty.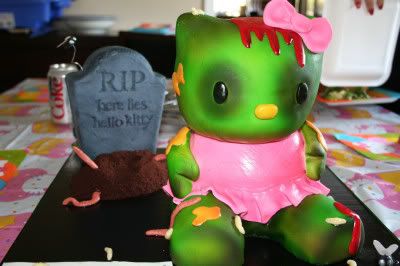 Hello Kitty Hell featured this Hello Kitty Zombie Cake submitted by Sean, who commissioned the cake for his wife Kristin's birthday from none other than longtime GWS pal Debbie Goard of San Francisco's Debbie Does Cakes.
I hired Debbie to make a birthday cake for my wife. Debbie did an incredible job of bringing Hello Kitty to life, (or death), in fine Zombie form.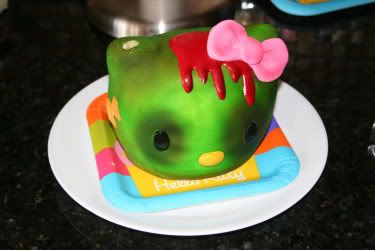 Yeah, that about says it all, doesn't it?  Sean hired Debbie, and Debbie made a cake.  I'm feeling good about going to the trouble of copying and pasting that quote.  Strong to very strong.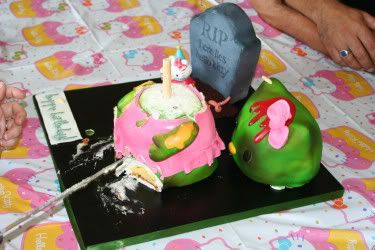 Check out Sean and Kristin's gallery for more photos of the cake, or you can occupy yourself with Debbie's other awesome work here on GWS, including the Optimus Prime cake, Millennium Falcon cake, Darth Maul cake, R2-D2 cake, and Yoda cake.
And do yourself a favor and visit the poor bastard behind Hello Kitty Hell who got himself married to a genuine Hello Kitty fan.
Enjoy this post? Subscribe to Great White Snark by – or by RSS.