Credit to my buddy Paul over at Robot's Pajamas for discovering this handmade Harley Quinn lingerie for auction on Ebay. [Update: The auction has expired, but you can find other Harley Quinn lingerie on Ebay.]
Paul claims to have found the sexy evening-wear of the infamous Batman villainess on some geeky internets message boards, but I have a gnawing suspicion that he's been trolling the "Women's Clothing > Intimates > Other" section of Ebay.  You never know what kind of deal you can find on slightly-used leather products, am I right, Paul?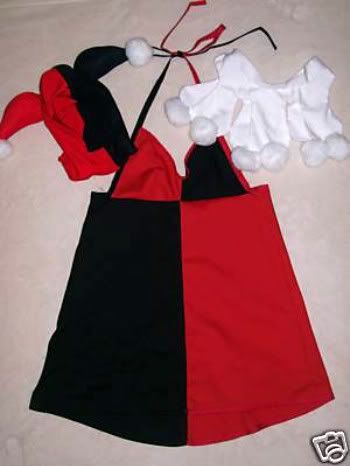 From the auction by "a costume design student who loves comic books:"
This is a one of a kind Harley Quinn themed sexy halter dress. This item is suitable for everyday wear or special occasions.
Sure. Everyday wear. If, in your everyday life, you're a flirty court jester.
This auction includes the following: 1- Harley Quinn themed nightgown/halter top size SMALL 1- Harley Quinn cowl with ears (One size fits most) 1- Harley Quinn neck ruffle. To make this extra sexy I've left the diamond pattern at the bottom without red fabric behind it. This allows a little more skin to show.
Yeah, an outfit featuring a "cowl with ears" can use all the "extra sexy" it can get.
Check out this Harley Quinn lingerie auction on Ebay. [Update: Auction expired. Check out other Harley Quinn lingerie on Ebay.] It's not like you've already picked out your outfit for Valentine's Day, right?
Enjoy this post? Subscribe to Great White Snark by – or by RSS.